HowToBBQRight Podcast Season 3: Episode 16
Cooking a Whole Hog with Swine Life BBQ
Malcom talks with Jamie and Mark Williams of Swine Life BBQ about his delicious dinner recipe and the whole "racing style" hog they cooked last week.
This week on the HowToBBQRight Podcast we have guests Jamie and Mark Williams from Swine Life BBQ. Malcom share his Delicious Dinner recipe (0:49) of Barbecue Pork Chops with Zucchini (4:35) and Sweet Potatoes (5:47).
Then talk about cooking a "running style" Whole Hog (10:43). Mark explains how we prepped the hog (12:51), why we stuffed the hog with a cinder block (17:52), why the hog looked like he was wrapped in butcher paper (25:22) and why this hog stalled out for hours (27:55).
We debated how much meat a 150lb hog will yield (32:28) then bragged about how good this "running style" hog was (33:04) and Malcom's failed attempt at smoked hog pork rinds (34:35). Mark and Jamie share their recipes for leftover hog meat (37:09) and the boys plan for their next hog recipe (42:17).
About Malcom and Rachelle Reed
We started HowToBBQRight in 2007. We didn't know what we were doing… but Malcom loved to cook BBQ and I knew just enough about designing a website to build one. Now we sell our own line of
Killer Hogs BBQ Products
and create weekly recipes for our
HowToBBQRight YouTube Channel
and website – and now we're doing a Podcast! To us, it's all about cooking delicious food and taking pride in everything we cook.
Connect with Malcom
HowToBBQRight Facebook Page
Connect with Malcom on Twitter
Connect with Malcom on Instagram
Connect with Malcom on YouTube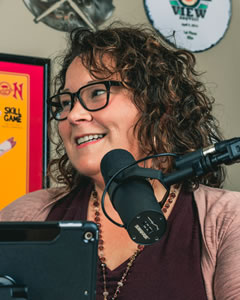 Connect with Rachelle
Connect with Rachelle on Instagram
Connect with Rachelle on Twitter
For Media Requests Contact Rachelle at
[email protected]
Have a Question About This Recipe?
Connect with us in our HowToBBQRight Facebook group for recipe help, to share your pictures, giveaways, and more!