If you're looking for something besides traditional BBQ to cook this weekend, I have a great recipe for you today. I'm using Beef Chuck Roast cooked low and slow; then I'm making one mouth-watering sandwich. Chuck Roast is one cut of meat that most people don't associate with BBQ. Similar to brisket, chuck roast needs to cook for a long time to become tender. It's made up of different groups of the shoulder and contains a good bit of fat and collagen. This cut stands up well to long cooks and the fat melts away leaving moist, flavor-packed meat. I bought 2 chuck roasts weighing 3lbs each. Chuck is considered a lesser cut of beef, so it's common to find it under $3 per lb. This means you can feed a lot of people some good food without spending a lot.
Much like a pork butt or brisket it takes a while to cook a chuck roast. You want it to be close to falling apart in the end, so it takes some time. You can plan on a 6 hour cook easy depending on the size of the roast. For this recipe I'm shooting for more of a beefy flavor than typical bbq, so the seasoning I use is savory based. I take my AP seasoning (Salt, Pepper, Garlic) and add a few things to it.
1/2 cup Salt
1/4 cup Garlic
1/4 cup Onion Powder
1/4 cup Chili Powder
1/8 cup Black Pepper
1 tea Ground Parsley
1 tea Ground Oregano
Season all sides of the chuck roast with this mixture (this recipe is more than enough seasoning for 2 chuck roasts).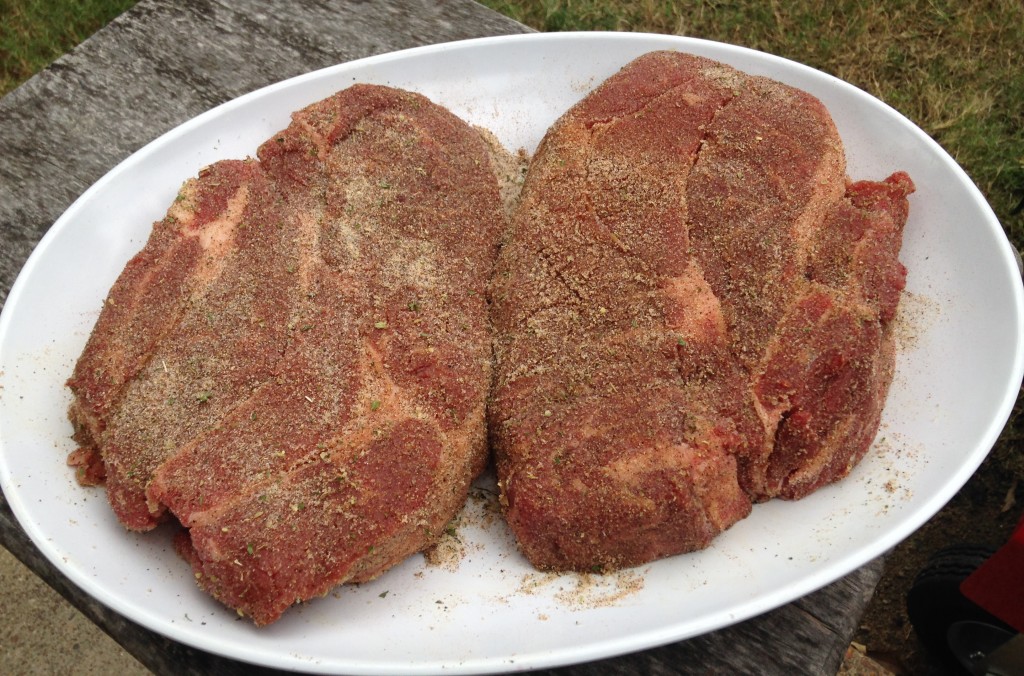 Now it's time to light the fire. I'm looking for 250 degrees with a little mild pecan smoke for these chucks. Once the smoker is up to temperature, place the roasts directly on the grate and close the lid. I'm using my Yoder (set & forget) today but any cooker will work as long as you can regulate the heat.
After 1.5 hours flip both roasts over and continue smoking. Keep adding pecan chunks as necessary and maintain the temperature at 250 degrees.
At the 3 hour mark the chuck roasts should be ready to pan. Take a thermometer reading here; it should read between 140-150 degrees. The meat won't take any more smoke at this point, so it's best to get it covered. For these chuck roasts, I use a large steam pan to hold them both. The meat needs some additional liquid as well, so I pour in 32oz of warmed beef broth. If you want to change it up a little substitute red wine or even a dark beer, go for it.
Cover the pan with aluminum foil and place it back on the smoker still holding 250 degrees. You're looking at another 2-3 hours at least, so keep an eye on the pit and add fuel as needed. You want to go more by the internal temp that the time – and the final target temperature is 195-200 internal. It's not the end of the world if you overshoot the target temp on this cut of meat. There's plenty of liquid in the pan to add moisture and you want it falling apart. This beef is for pulling, so we want the collagen and fat holding it together to completely dissolve. When the thermometer is reading 195 and it feels like a knife sliding into hot butter, you know it's done. Remove the pan from the smoker and let the steam escape for about 5 minutes. Rest the meat for at least an hour (I go for 2) before breaking it down. Even after two hours it will still be so hot you'll need to wear hand savers and gloves.
When it's done properly this meat will practically pull itself. Separate any fat that didn't render and pull the pieces into small strands. If you don't want to shred it by hand you can always use a couple forks or a pork puller… it will flake right apart after it cools a little. I like to reserve the liquid from the large pan. That beef broth is rightly seasoned after you've cooked the chuck roasts in it. You can use it to add a little extra moisture to your pulled meat. Just ladle some of the liquid over the pulled meat… and you're ready to serve.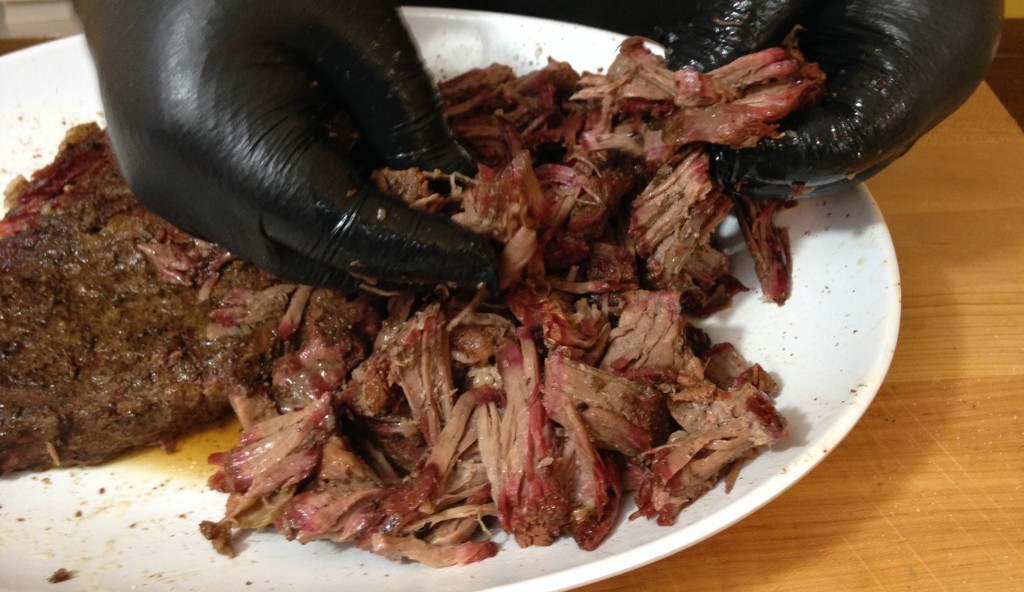 Now, you can just serve this pulled beef the way it is. And it is some good stuff. But I like to make a pulled beef sandwich. It's something great to serve for tailgates and football parties because it's different and delicious.
For my Pulled Beef Sandwich here's what you'll need:
Pulled Beef Onion buns Caramelized Onions (recipe on the right side) Horseradish Mayo*
*Horseradish Mayo Recipe – 16oz Mayo – 6oz Horseradish Cream Sauce Mix together and place into a squeeze bottle.
All you do to make this sandwich is to split the onion roll and pile on a heaping serving of pulled beef. Then I just top with caramelized onions and Mayo. It's easy and folks go crazy over it. You get a little sweetness from the onions – and the horseradish mayo has just enough of a kick without being overpowering. Give this recipe a try, your friends will thank you for it.
Malcom Reed
Connect on
Facebook
Follow me on
Twitter
Subscribe to my
YouTube Channel
Find me on
Google+
Follow me on
Instagram

Have a Question About This Recipe?
Connect with us in our HowToBBQRight Facebook group for recipe help, to share your pictures, giveaways, and more!