HowToBBQRight Podcast
Latest Episode:

Welcome to the HowToBBQRight Podcast with Malcom & Rachelle Reed. Here we talk all about our weekly YouTube recipes, what we're grilling at the house, tips and tricks for grilling and our competition BBQ contests.
SEASON 4
Talking with Matt Pittman from Meat Church BBQ – Season 4: Episode 9
We talk with Matt Pittman about his new smokers, classes and chicken fried chicken
On this week's episode of the HowtoBBQRight Podcast, Malcom explains what exactly the HowtoBBQRight App is (02:01), and I ask how his crawfish class went (03:24). Malcom explains going caveman for a video this week (5:50). The best hair in barbecue joins the interview, virtually (08:13), and Matt spills the beans as to what he is currently up to right now (09:14). Malcom asks Matt about his process cooking Texas brisket (13:40), and then, he wants to know what Matt's go-to place in Texas is for BBQ (18:56). Meat Church invites Malcom out to his upcoming BBQ classes (24:50), and Malcom mentions his experience opening the retail location (31:06). Matt talks about his roots in cooking crawfish (32:34), and then, he explains who is in charge of the seasonal apparel drops (35:49). Matt wraps his segment up diving deep into his roots in cooking and Memphis in May (41:12). I talk about bringing back some old merch for a reunion coming up (46:00), and Malcom talks about visiting Matt in Texas in the past (46:46). Finally, Malcom spills the beans about an upcoming YouTube recipe (48:07), and he tells me about Jay from Outlaw being in town cooking with him and Mark (51:00).
Malcom's Roots, Bacon Wrapped Oreos & Cooking with Tennessee Mojo – Season 4: Episode 8
We talk about Malcom's beginnings in barbecue, BBQ food trends and throwing down on the pit with Tennessee Mojo.
On this week's episode of the HowtoBBQRight Podcast, I update everyone on our "Feed a Family" campaign (00:34) and we talk about cooking Memphis In May ribs with Jay from Tennessee Mojo this week (01:57). Malcom discusses how he almost made Greg Rempe cry on the BBQ Central this week (07:00). I ask Malcom about tickets to this year's Memphis in May (11:28), and then he explains his party schedule looks like (16:02). Then we talk about the rib practice and working to bring home the trophy (17:27). Malcom and I discuss bacon wrapped, chocolate dipped oreos and other bizarre BBQ trends (21:11). Then I pick Malcom's brain about his roots in competition and backyard barbecue (39:37). 
Talking Burgers and Out the Smoke with Mark Williams – Season 4: Episode 7
We talk with Mark Williams (from Swine Life BBQ) about crawfish, burgers, and all things Out the Smoke.
On today's episode of the HowtoBBQRight Podcast, we talk about how Malcom went plant-based (00:55), and I explain how you can come hang out with Malcom for a weekend (02:17). We laugh about Malcom having to eat something disgusting for TikTok (04:35). I ask Malcom about the burger he made for YouTube this week (07:58), and Mark tells us how to make any burger like Wagyu (08:50). Mark and Malcom tell me what their favorite burger looks like (09:56), and then, Mark tells a story about his family's first grill (13:27). I ask the boys about a crawfish class they are hosting (16:03), and we all laugh about the stench of rotting crawfish (19:52). I want to know all about Malcom and Mark's new YouTube channel (25:09). Mark tells Malcom about sous viding a Wagyu Brisket (29:30), and how carbonated water is best meat tenderizer (33:19). The boys talk about cooking Wagyu on a salt block (35:25), and we talk about the Out the Smoke video about keeping your wood cutting board forever (41:52). Then, I ask about how in the world they gave pork chops grill marks on an air fryer (44:20). Malcom tells us about how he does not prefer dry-aged meat (46:21), and Mark talks about building the world's largest Vortex (50:29). Malcom tells us about his big April Fools' Day joke (52:30). We discuss fake things that are actually delicious (53:40). I want to know what Mark and Malcom have on the grill for Easter. (56:30)
Ham Recipe, Memphis in May and Smash Burgers – Season 4: Episode 6
In this week's episode, we talk about Malcom's Easter Menu, our Memphis in May plan and his new love of TikTok.
This week on the HowtoBBQRight Podcast, I explain why you should donate to Palmer Home (00:55) and show Malcom his new "Malcom in May" merch (02:30). Malcom shares his big Memphis in May news (03:49) and our plan for this competition (06:14). We discuss our first class since the pandemic started (06:39) and share a laugh about pickled pigs feet (08:29) and plan a mayonnaise challenge (10:57). Next Malcom shares his Fat Boy Burger recipe he made for TikTok (15:35), talks about the Traeger Ranger (16:19) and plans his upcoming TikTok recipes (21:50). Then we talk margarita recipes (24:40) and how his new toy might cut off an arm (28:47). Next we talk reverse searing some Wagyu steaks (33:04), his BBQ Smoked Ham recipe (34:59) and past hams he has cooked (37:42). Then we plan our weekend (42:57) and talk about trying bacon-wrapped pickles (45:35).
Wagyu, Crawfish and Traeger Recipes – Season 4: Episode 5
In this week's episode, we talk about the upcoming videos we shot with Chad from Traeger and the successful Grand Opening we had for Malcom's Shop.
On today's episode of the HowtoBBQRight Podcast, I talk about getting a chance to hang out with Malcom for an awesome cause (00:57). We then discuss all things about the Grand Opening (04:58), and our plans for holding a yearly Malcom Fest (05:36). Malcom talks about last week's podcast with Stalekracker and Chad from Traeger (07:18), and how Kracker treated his fans at the Grand Opening (10:19). We talk about why we brought our guests to the most delicious restaurant in town (13:00), and how Malcom funneled Miller Lite (15:17). I explain the spread Traeger laid out at the Grand Opening (16:45), and what Malcom and the crew cooked for it (17:50). I ask Malcom about his plans for a challenge for our Carolina Reaper Jerky (24:56). We talk about the tabletop pellet grill that Traeger gave us (31:06), and he tells me about the Spatchcock chicken recipe Chad cooked for Malcom (35:05). I ask Malcom if Wagyu is worth the money (40:59). He talks about a delicious Jerk recipe he made off-video (44:08). We discuss Malcom's first class we are holding in the near future (47:03), and how he will be throwing down on Swine Life BBQ (48:50). Malcom talks about hunting some turkey (49:07). He then goes on to talk about shooting some new "lucious" TikToks (52:10), and what we will be releasing for his Easter recipes (53:37). 
Talking BBQ with Stalekracker & Chad Ward – Season 4: Episode 4
Joined by Stalekracker from TikTok and Chad Ward from Traeger grills, Malcom talks all things grand opening.
This week on the HowToBBQRight Podcast, we welcome our guest, Stalekracker and find out how he got started on TikTok (02:39), how his kids feel about Dad being a TikTok star (11:45) and his experience off-shore fishing with Bluegabe off of Venice Beach (13:33). Then we argue about cooking shrimp (14:44), compare notes on boiling crawfish (19:04), and steal his grandfather's "Smoked Rabbit Gumbo" recipe (26:03). Next we bring in Chad from Traeger (32:46) and he and Malcom talk about missing BBQ Classes (33:48). Then Chad and Malcom plan their International BBQ Tour (36:13) and discuss how the shutdown effected BBQ Business (38:02). Next we get Chad's thoughts on a low and slow pork butt, like we made this week (41:39), and Chad finally explains the "Super Smoke" feature in Traeger Grills (43:13). Finally we get Chad to name-drop and tell about cooking with Joe Rogan (50:47) and Dan Patrick (1:03:10). 
The BBQ Ninja, Mossy Oak Wildgame and Competition BBQ – Season 4: Episode 3
Malcom and I are joined by Craig Verhage, AKA "The BBQ Ninja", and we talk about their experience at Mossy Oak hunting deer and shooting videos, the state of competition BBQ, and what Craig has been up to since his last visit in 2020.
This week on the HowtoBBQRight Podcast, we talk about Malcom's new Picanha recipe video (03:43), and where he sourced the wagyu meat for the video (06:36). I ask Malcom and Craig how Wagyu is pronounced (07:48). Craig talks about his new experiences cooking on a drum smoker (09:56), and then goes on to talk about a funny story at the SCA World Championship (12:38). I bring up one of Malcom's oldest drum kits we smoked on (14:34), and he talks about the most expensive part of making his drum back in the day (15:30). Craig begins to discuss his Mossy Oak cooking experience (16:48), and Craig asks what Malcom's favorite Mossy Oak Wild Game recipe was his favorite (19:06). The BBQ Ninja dives deep about his braised rabbit meal he did at Mossy Oak (20:52). Malcom briefly goes on about the different kinds of meats offered by GamekeeperMeats.com (24:20), and he talks about the uncertainties that came with traveling to Mossy Oak to cook (27:04). Craig reminisces about Malcom singing karaoke at camp (30:02), and how Craig killed a huge buck to be produced on a Mossy Oak video (31:40). Malcom tells a story about how his boots almost got burned by the Mossy Oak staff (35:42). I ask The BBQ Ninja about how many events he has been to this past year (37:00), and we discuss if Memphis in May will happen this year (38:03). Malcom jokes about the winter storm social distancing everyone for a week (39:45). The BBQ Ninja talks about his experience at IBCA comp (40:35) and the Dallas World Championship next week (45:00). He discusses the 2020-2021 Royal Oak Charcoal branded teams (46:15), and Malcom asks how the Royal Oak board goes about picking who is selected for those teams (48:26). Craig talks about events he is hoping to traveling to in the near future (1:03:00).
Back from Jamaica, Snowmageddon and Grand Opening – Season 4: Episode 2
Malcom talks about our big Grand Opening, getting some R&D in Jamaica, the winter storm of 2021, and all our favorite Jerk Recipes.
This week on the HowToBBQRight Podcast, we talk about just ditching town in time for the Snowmageddon of 2021 (2:28), and what Malcom has been up to since landing back in Hernando (5:05). I ask him how he felt about the new fashion trends in Jamaica (7:28). Malcom then talks about the experience of opening the retail shop (8:53). He then goes on to talk about some of the VIPs we are having for the Malcom's Shop Grand Opening (11:09). Malcom explains why Jamaica is his favorite place on Earth (16:28), and some of his favorite recipes that he tried on vacation (18:18). Malcoms talks about how Jerk started as a way to preserve meat (28:44). I ask him about what recipes he is going to film after our research and development (31:09), and then we talk about some of the past Jerk recipes Malcom filmed for the channel (37:00). He told me about his two favorite Jerk recipes from the past are (40:58). We talk about the new Facebook community page for connecting with Malcom (49:05), and Malcom answers some of the questions the community have asked on it (51:27). We then wrap everything up by talking about filming new Out the Smoke videos (1:01:24), and I ask Malcom about some of the past videos they filmed for it (1:01:52). 
Back to Work, Chili Recipes, BBQ Nacho Burger and Vacation – Season 4: Episode 1
Malcom talks about his time off, how badly he lost in the chili contest, how he came up with a BBQ Nacho Burger and our BIG Super Plans.
This week on the HowToBBQRight Podcast, Malcolm shares what he's been up to these past, few weeks (1:08) and how he's keeping up with his TikTok (2:56) and his new favorite wing recipes (3:14). Then we talk about the latest product, Malcom's Bonafide Chili Seasoning (6:30) and how Rachelle beat Malcom in our office chili competition (8:10) – and we share the secrets about both our chili recipes (9:30). The Mossy Oak wild game videos dropped this past week (14:36) and we talked about all the deer Malcom missed this hunting season (15:44). Then we talked about the best thing Malcom ate over the Holidays (19:00), Christmas Tree Cake dip, Beef Tenderloin and his New Year's Pulled Ham recipe. And since it's time for The Big Game, we talk about Malcom's new BBQ Nacho Burger recipe (30:58), his past Super Bowl recipes (38:44), and what our menu looks like for Sunday (40:01).
About Malcom and Rachelle Reed
We started HowToBBQRight in 2007. We didn't know what we were doing… but Malcom loved to cook BBQ and I knew just enough about designing a website to build one.
Now we sell our own line of Killer Hogs BBQ Products and create weekly recipes for our HowToBBQRight YouTube Channel and website – and now we're doing a Podcast! To us, it's all about cooking delicious food and taking pride in everything we cook.
Connect with Malcom
Connect with Malcom on Twitter
Connect with Malcom on Instagram
Connect with Malcom on YouTube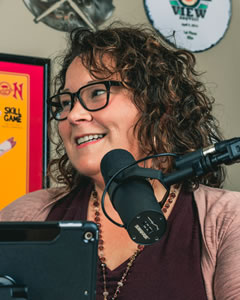 Connect with Rachelle
Connect with Rachelle on Instagram
Connect with Rachelle on Twitter
For Media Requests Contact Rachelle at [email protected]