Barbecue season is roaring along, and I've lost track of how many weekends in a row I've been out on the road, but I still try and take the time to cook up something good at home to share with everyone. This week I have a pork chop recipe that just says "Summertime". Now this isn't your ordinary pork chop…I picked up some Dry Aged Chops for this recipe.
I call this recipe Hawaiian style pork chops because it reminds me of tropical island using fresh pineapple and a sweet & sour salsa. Here's what you'll need: – 4 Dry Aged Pork Chops – 1 Fresh Pineapple (slice ½ into rings and save the rest for salsa) – 1 bottle of Hawaiian marinade – ¼ cup Brown Sugar – All Purpose Rub* – Pineapple Salsa* For the recipe I started with 4 Dry Aged chops (you can substitute any thick cut pork chop). First the chops go into a quick 30 minute marinade to get the sweet and sour flavor going on the outside. I used a bottled marinade found on the BBQ sauce isle at my local Kroger (store brand Hawaiian marinade). Place the chops in a large ziplock bag, pour the marinade over the top, and work the chops around to cover. Store the chops in the refrigerator for 30 minutes. While the marinade is working put the salsa together.
Pineapple Salsa Recipe
– ½ Fresh Pineapple chopped – ½ Red Onion diced fine – ½ Red Pepper diced fine – 1 clove garlic chopped – ¼ cup Cilantro chopped – 1 Serrano Pepper seeded and diced fine – Juice from 2 limes – All Purpose Rub to taste Combine the above ingredients in a bowl and refrigerate. After 30 minutes remove the pork chops from the marinade and drain off any excess liquid. Place the chops on a flat surface and season the outside with All Purpose Rub (4 parts salt, 2 parts granulated garlic, 1 part black pepper).
Let the chops hang out on the cutting board for a few minutes while you fire up the grill. I'm using my Big Green Egg for this cook set up for direct grilling with a set of 
GrillGrates (check these GrillGates out here >>)
. You can use any direct grill here just hold the temperature steady at 400 degrees. The cooking process is pretty straight forward. At 400 degrees the chops need about 8-10 minutes to cook to medium. Grill them for 2 minutes then twist the chop ¼ turn. Time another 2 minutes and flip the chops over to the opposite side. Repeat the same process and check the internal temperature. I'm looking for 135 internal before taking them off the grill.
As soon as the internal temp reaches 135 take the chops off and loosely cover with a piece of aluminum foil. I use a Thermapen for checking internal temps.
You can check them out here>>
While they're resting it's time to grill the pineapple rings. Sprinkle each side with a little brown sugar and place on the grill. It only takes about 1 ½ minutes per side on the pineapple so don't walk away. You just want the sugar to brown and get a little color on the pineapple. The grill brings out natural sweetness in fruit.
Once the pineapple is grilled you're ready to eat. Top each chop with a pineapple ring and garnish with a big spoon of the salsa. These chops will be tender and juicy the minute you cut into them. The texture is like no other chop you've tried. The next time you're looking for a special summertime grilled meal give these Hawaiian style pork chops a try!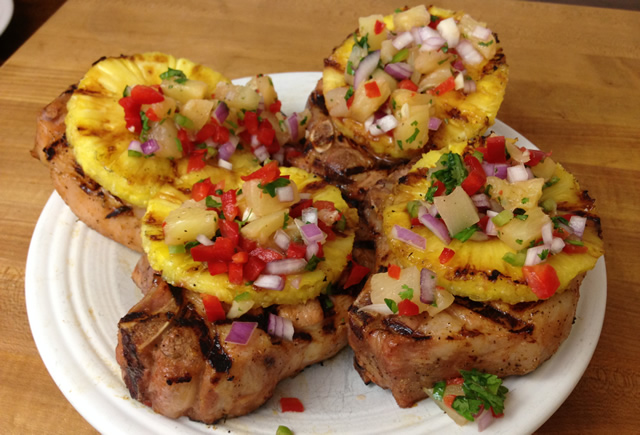 Malcom Reed
Connect on
Facebook
Follow me on
Twitter
Subscribe to my
YouTube Channel
Find me on
Google+
Follow me on
Instagram

Have a Question About This Recipe?
Connect with us in our HowToBBQRight Facebook group for recipe help, to share your pictures, giveaways, and more!