Smoked Beef Short Ribs Recipe
If you've never had Smoked Beef Short Ribs I suggest you run to the store and pick up a few packs because you're in for a decadent treat. Short Ribs are beefy, rich, and packed with flavor. And cooking them out on the smoker brings even more flavor to the party. So let's get started with this Smoked Beef Short Ribs recipe.
Short ribs usually come 3-4 pcs to a package at my local grocery store. Inspect each pack and look for pieces that have plenty of meat on the bone.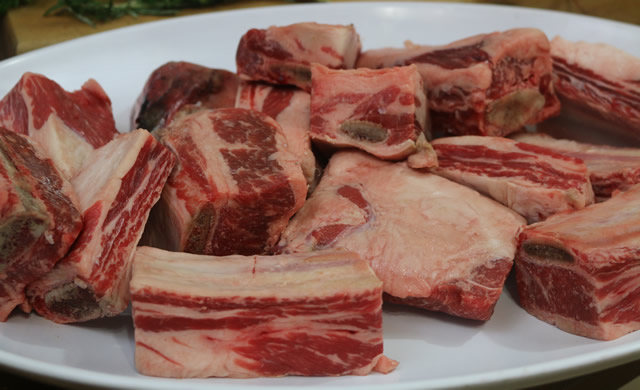 The first thing you want to do is get some seasoning on the short ribs. For this I keep it real simple and go with basic flavors that go with beef – Salt, Black Pepper, and Garlic. This is a perfect job for my AP rub. Coat all sides of the Short Ribs with a good dose of the rub and let them hang out for a short while at room temperature. Here's a good time to fire up the smoker.
For this cook I'm using my Ole Hickory pit and it needs to be running at 275 degrees. For smoke, throw on a couple chunks of seasoned hickory. You can prepare this recipe on any pit just prepare for a 4-5 hours indirect cook with temps running 275-300 degrees.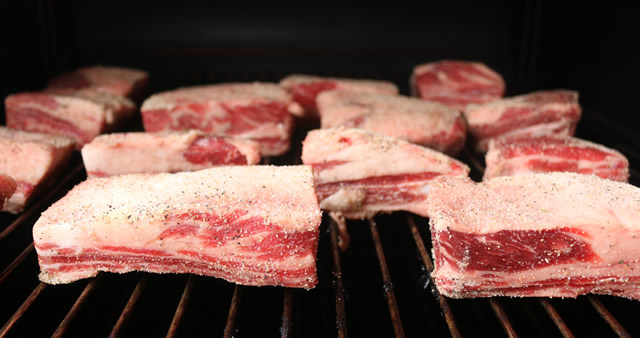 When the smoker is up and running, place each piece of short rib directly on the rack and get the lid closed. They'll need to smoke for 2-3 hours to absorb some flavor and turn a beautiful brown color. We're shooting for the color of a good brisket on these Smoked Beef Short Ribs. The meat on short ribs is surrounded by fat and tough connective tissue, and it takes a long time to render during cooking. This is why Smoked Beef Short Ribs are a perfect meat to cook low and slow.
As the fat breaks down, it surrounds the meat and turns into a sort of "meat butter" which gives the short ribs its' richness. To help this process along I use a braising liquid filled with herbs and vegetables to create even more flavor. You'll need a large pan for this job.
Smoked Beef Short Ribs Braising Liquid:
– 3 Carrots – 3 Ribs of Celery – 1 Onion – 4 Cups Beef Stock – 2 Cups Red Wine – 8 Cloves Garlic – 6 oz Tomato Paste – 2 Sprigs Rosemary – 1 Bay Leaf Chop the carrots, celery, and onion into large chunks and add them to the pan. Smash the garlic with your knife and add in with the vegetables. Pour in the beef broth and wine. Stir in the tomato paste but don't worry about breaking it up all the way; it will mix in as it cooks. Lastly season with a little more of the AP rub and throw in the rosemary and bay leaf. Cover the pan with aluminum foil and get it out on the smoker. I want the braising liquid to warm so we're not adding hot meat to a cool liquid and it speeds up the cooking process a little. Usually this pan goes on the pit about 2 hours into the cook. It's a good time to peak at the Smoked Beef Short Ribs and see how the color is coming.
At the 3 hour mark the Smoked Beef Short Ribs have plenty of brown color all the way around, so they go straight into the liquid. Recover the pan with foil and continue cooking. It's time to really break down the fat and connective tissue now. It's also ok if the temperature on your pit goes up a little. I bumped the temp on my Ole Hickory up to 300 degrees. After an hour in the liquid, check the ribs for tenderness. Use two forks and gently try to separate some of the meat. If you feel any resistance, they need a little more cooking. I'm looking for soft, sponge-like feel. The meat should have almost no resistance coming off the bone. Continue cooking if they're not quite there. Mine took an additional 30 minutes to get just right. Once the tenderness is perfect, bring the Smoked Beef Short Ribs inside and carefully get them out of the braising liquid and onto a platter. Cover with foil loosely and let them rest for 10-15 minutes.
Don't throw away the braising liquid because it makes a wonderful sauce to serve over the short ribs. The vegetables will have cooked almost into a mush but they've left behind a ton of flavor. Strain the liquid into a bowl and give it just a second to settle. Most of the fat will rise to the top and you can ladle it off. Now pour the liquid into a small sauce pot and reduce it by half over high heat. It should take about 10 minutes; just enough time for the Smoked Beef Short Ribs to rest. I serve Smoked Beef Short Ribs family style over a platter of mashed potatoes. Ladle on a good spoon of sauce over each piece and top with a touch of fresh parsley. I hope you enjoy this recipe as much as I do. Simply put… Smoked Beef Short Ribs are delicious.
Print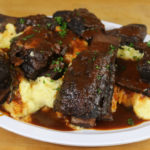 Smoked Beef Short Ribs Recipe
---
12

Beef Short Ribs

3

Carrots

3

Ribs of Celery

1

Whole Onion

8

Cloves of Garlic

4 cups

Beef Stock

2 cups

Red Wine

6oz

Tomato Paste

2

Sprigs Rosemary

1

Bay Leaf

¼ cup

+ 2 teaspoons AP Rub (Salt, Pepper, Garlic)
---
Instructions
Prepare Smoker for indirect cooking, bring temperature to 275 degrees with a couple chunks of Hickory wood for smoke.
Season outside of Short Ribs with AP Rub .
Place on pit and smoke for 3 hrs until brown on all sides.
Chop carrots, celery, and onions into large chunks. Place in a full size steam pan. Smash garlic cloves and add to pan. Pour in beef stock and wine. Add tomato paste and stir to disperse. Season with AP Rub and add rosemary and bay leaf.
Cover with foil and place on smoker after the short ribs have been on for 1 hour.
When the short ribs are brown (approx. 3 hrs) place them in the pan with the liquid.
Cover with foil and continue cooking until for tender about 1 ½ hrs.
Carefully remove each short rib from the liquid and cover loosely with foil.
Strain the remaining liquid and ladle any fat from top. Pour into a sauce pan and heat on high for 10-15 minutes until reduced by half.
Serve the sauce over each Short Rib.
Malcom Reed
Connect on
Facebook
Follow me on
Twitter
Subscribe to my
YouTube Channel
Find me on
Google+
Follow me on
Instagram

Smoked Beef Short Ribs
Have a Question About This Recipe?
Connect with us in our HowToBBQRight Facebook group for recipe help, to share your pictures, giveaways, and more!