Smoked Shrimp Recipe
This Smoked Shrimp recipe is a simple, easy recipe that only takes about 30 minutes to prepare. New Orleans is known for their BBQ Shrimp – where you sauté shrimp in butter, worcestershire sauce and some other seasonings – and then serve it all with a crusty french bread to soak up the sauce. I decided to do my take on BBQ Shrimp, get it out on the smoker and create some Smoked Shrimp. For these Shrimp, it's really simple. You just get some large, fresh shrimp. You can use the ones that haven't been peeled or deveined, but I like to make it easy on myself and my guests and get the shrimp ready to go.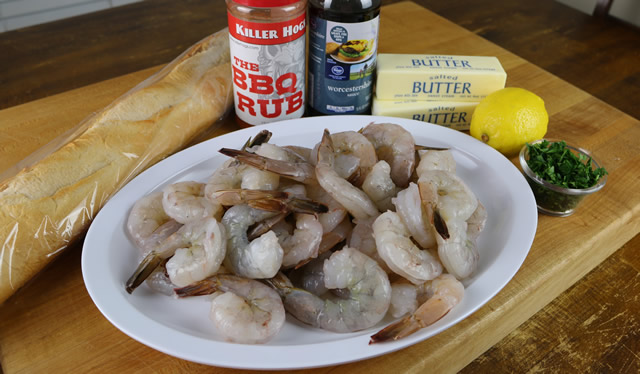 First I season my Smoked Shrimp with my
Killer Hogs The BBQ Rub
, then add it to a metal half pan. Next I put together my butter mixture:
Smoked Shrimp Sauce:
– 1/2 lb melted Real Butter, salted – ¼ cup Worcestershire Sauce – 1 Lemon quartered – ¼ cup Flat Leaf Parsley chopped I pour this mixture over my shrimp and get the whole pan out on the smoker. For these Shrimp, I'm holding my Ole Hickory Pit right at 250 for the entire cook.
After about 10-15 minutes, check your shrimp and give them a little stir. You want your shrimp to be pink with all the translucent. It typically takes 25-30 minutes for the shrimp to get done.
Once your shrimp are ready, pull them off the smoker and garnish with a little extra parsley and the juice of a lemon. Now it's time to dig in! This is where the toasted french bread comes in – you can use it to soak up all the shrimp sauce while you enjoy your Smoked Shrimp.
Print
Smoked Shrimp Recipe
---
2

lbs Fresh Gulf Shrimp (16-24ct)

1/2

lb Real Butter salted

¼ cup

Worcestershire Sauce

1

Lemon quartered

¼ cup

Flat Leaf Parsley chopped
---
Instructions
Bring Smoker or Grill set for indirect cooking up to 250⁰ with 2 chunks hickory wood for smoke flavor.
Peel and Devein shrimp leaving the tail attached. (You can find this already done at most grocery stores or seafood markets)
Melt butter in microwave safe container stirring often.
Combine butter, Worcestershire, juice of lemon, & parsley.
Season Shrimp on both sides with The BBQ Rub (or your favorite bbq seasoning blend)
Place shrimp in aluminum pan and pour in butter mixture. It should come up about ½ way on the shrimp.
Place pan on smoker or grill and close the lid. Maintain a constant temperature of 250⁰ w/ light hickory smoke.
Gently stir the shrimp after 10-15 minutes. Shrimp will still be a little translucent in color.
After 25-30 minutes total cook time, shrimp are done. Garnish with a squeeze of lemon juice and pinch of fresh parsley and sever with crusty French bread for dipping.
Malcom Reed
Connect on
Facebook
Follow me on
Twitter
Subscribe to my
YouTube Channel
Find me on
Google+
Follow me on
Instagram

Smoked Shrimp
Have a Question About This Recipe?
Connect with us in our HowToBBQRight Facebook group for recipe help, to share your pictures, giveaways, and more!