Smoked Brisket Tacos Recipe
Why go out for tacos when you can make the best ones at home? I know you typically find brisket sliced along with the standard BBQ sides, but trust me once you've had a Smoked Brisket Tacos, you'll fall in love! For this recipe you'll need a whole packer brisket. I picked one up at Sam's Club weighing just over 15 lbs. The first thing you want to do is trim the brisket so it lays flat on the grill. Remove a good portion of the fat leaving about ¼" for insulation & flavor. On the meat side you want to trim off as much of the silver skin as possible but don't get over aggressive. Of Course Brisket needs a good dose of Salt and Pepper, but I also want it to have more of a Southwestern flavor to really give it a kick. First hit the brisket with a generous amount of my
Killer Hog's AP Rub
on both sides. Then it's time for the Mexican Seasoning (see the recipe below) for these Smoked Brisket Tacos. Whole Brisket can take a lot of seasoning, so don't be stingy here.
Mexican Seasoning Recipe for Smoked Brisket Tacos
– 1 Tablespoon Chili Powder – 1 Tablespoon Cumin – 1 Tablespoon Granulated Garlic – 1 Tablespoon Paprika – 1 Tablespoon Onion Powder – 1 Tablespoon Salt – 1 teaspoon Oregano – 1 teaspoon Ground Chipotle Pepper – 1 teaspoon Ground Ancho Chili Powder – ½ teaspoon Cayenne Pepper Now it's time to fire up the pit. I'm using my Gateway Drum for this cook but you can follow along with any smoker. For brisket, I like the cooking temperature to be around 275⁰ because it sets a good bark on the outside and really renders out the fat. Just before the brisket hits the rack add a few chunks of your favorite wood. Today I'm using
GrilleWood
hickory, but post oak or pecan would also be good choices.
On the drum, brisket needs about 3 hours in the smoke, but more than time I'm really going by color on the outside of the brisket. I want to catch it just before it starts turning dark. This way the bark has a great flavor and it's not overly smoked.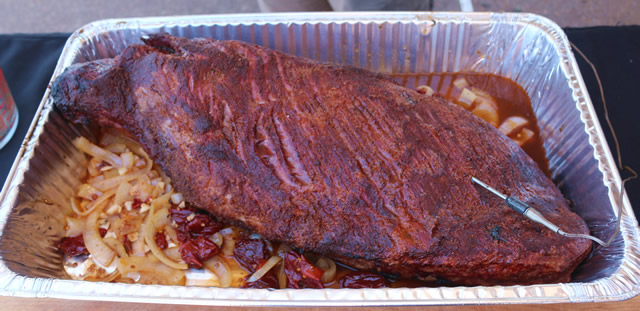 Once the color is right it's time to pan the brisket with a flavorful jus so that it gets tender. Here's my recipe for the Brisket Jus: – 16oz Beef Broth – 8oz Dark Mexican Beer – 1 Tablespoon Butter – 1 Small White Onion (cut into strips) – 4-5 Cloves Minced Garlic – 4 Chipotle Peppers in Adobo Sauce Melt the butter over medium heat and add the onions and garlic. Cook just long enough to sweat the onions then add the Chipotle Peppers. Use a wooden spoon to break up the peppers then add the liquids. Simmer for 5 minutes but don't bring the jus to boil. The flavors need to come together but we don't want the mixture to reduce. Pour the jus into the pan with the brisket and insert a probe thermometer into the thickest part of the flat. For this cook I'm using a
Thermoworks DOT – you can check them out here >>
Cover the pan with foil and get the brisket back on the smoker. At this point just monitor the internal temperature until it reaches 204⁰ internal. You can test the tenderness by removing the probe and reinserting into different areas on the flat. Look for little to no resistance (think of a knife sliding through room temp butter). Once the brisket is tender it needs to rest for a couple hours in a dry cooler. Just let the steam out of the pan for a few minutes and place it into a large cooler. Don't skip the resting period anytime you're cooking brisket. If you slice it without resting, the meat will lose moisture and end up on the tough side.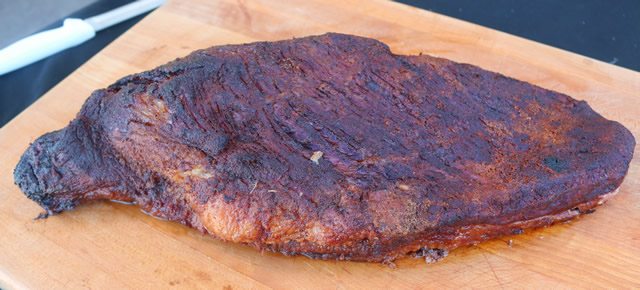 For the Smoked Brisket Tacos I serve them 2 ways… Sliced and Shredded. Separate the flat/point and cut the flat across the grain into ¼" slices. I use my
Brisket Slicer
for this.
Use a pair of nitrile gloves over cotton liners to shred the point. The brisket jus is great for keeping the slices and shreds moist. I pour it into a container and let the fat rise to the top. Ladle the fat off and drizzle the meat with the left over jus.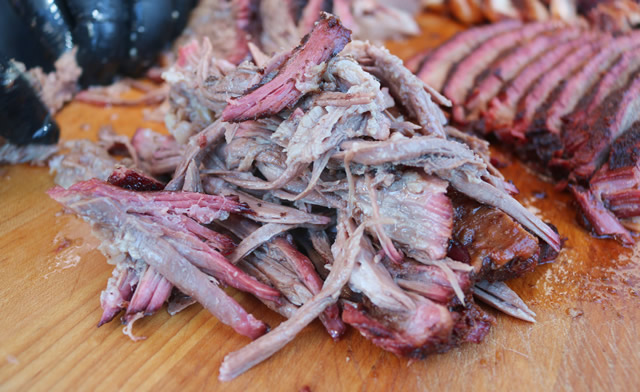 When it comes to building the Smoked Brisket Tacos I like to keep it pretty simple. Fresh cilantro, onions, and a squeeze of lime are all you need; but you can get creative and serve them with your favorite toppings.
I made an Avocado Crema that adds the perfect creamy balance to these tacos. The recipe is below and trust me this is one you want to make. I hope you enjoy this recipe!
Avocado Crema Recipe
– ¾ Cup Sour Cream – 2 Avocados – 1 Chipotle Pepper – 3 Cloves Garlic – Juice of ½ lime – ½ teaspoon Salt
Print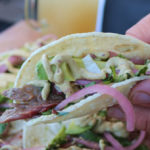 Smoked Brisket Tacos Recipe
---
14

–

16

lb Whole Brisket

¼ cup

Killer Hogs The AP Rub

¼ cup

Mexican Seasoning* recipe below

24oz

Brisket Jus* recipe below
Mexican Seasoning
1 Tablespoon

Chili Powder

1 Tablespoon

Cumin

1 Tablespoon

Granulated Garlic

1 Tablespoon

Paprika

1 Tablespoon

Onion Powder

1 Tablespoon

Salt

1 teaspoon

Oregano

1 teaspoon

Ground Chipotle Pepper

1 teaspoon

Ground Ancho Chili Powder

½ teaspoon

Cayenne Pepper
Avocado Crema
¾ Cup

Sour Cream

2

Avocados

1

Chipotle Pepper

3

Cloves Garlic
Juice of

½

lime

½ teaspoon

Salt
---
Instructions
Prepare UDS barrel style pit or other indirect smoker for cooking at 275⁰. Add 2 chunks of hickory wood for smoke flavor.
Remove brisket from packaging, remove silver skin from meat side and trim fat to ¼" so the brisket lays flat on cutting surface.
Season both sides with Killer Hogs AP rub and Mexican Seasoning (recipe below).
Place brisket on pit and smoke for 3 hours or until the color of the brisket starts to turn dark.
Place the brisket in a full size aluminum pan and pour in Brisket Jus (recipe below). Insert a probe thermometer into thickest part of the flat and cover pan with foil.
Continue to cook until internal temperature reaches 204⁰.
Remove brisket from pit, vent the steam from the pan, and rest in a dry cooler for at least 2 hours.
Separate the flat and point. Slice flat across the grain into ¼" slices. Shred the point end of the brisket by hand. Reserve the Brisket Jus for added moisture if desired.
For the Tacos
Warm corn or flour tortillas on the grill or oven.
Top each tortilla with a slice of brisket or with shredded point.
Add finely chopped cilantro, Pickled Red Onion, diced white onion, slice of avocado, and squeeze of lime. (Substitute your favorite toppings)
Drizzle Avocado Crema (recipe below) and serve.
Malcom Reed
Connect on
Facebook
Follow me on
Twitter
Subscribe to my
YouTube Channel
Find me on
Google+
Follow me on
Instagram

Have a Question About This Recipe?
Connect with us in our HowToBBQRight Facebook group for recipe help, to share your pictures, giveaways, and more!