Crispy Grilled Wings Recipe
If you're a fan of crispy hot wings but you want to avoid frying them, then you'll want to try this Crispy Grilled Wings technique. I started out with whole wings and separated the drumstick and the flat – and removed the flapper. I do this because the size of whole wings is larger than the frozen party wings and I like a big wing for grilling.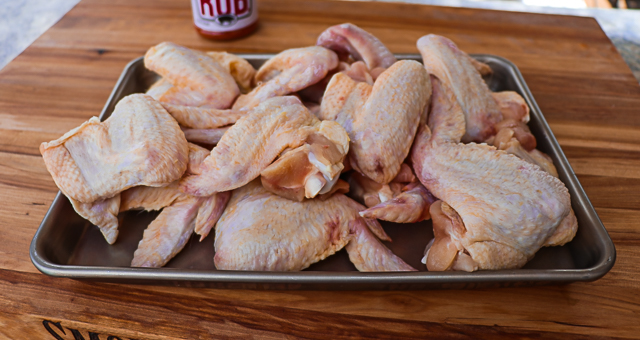 Then I combined corn starch with my
Killer Hogs's The BBQ Rub
to create a light breading that turns the outside of the wings into a light crust. Place corn starch and
Killer Hogs's The BBQ Rub
in a ziplock bag, add chicken wings, and toss to coat. Place the wings on a wire rack to air dry while the grill gets hot.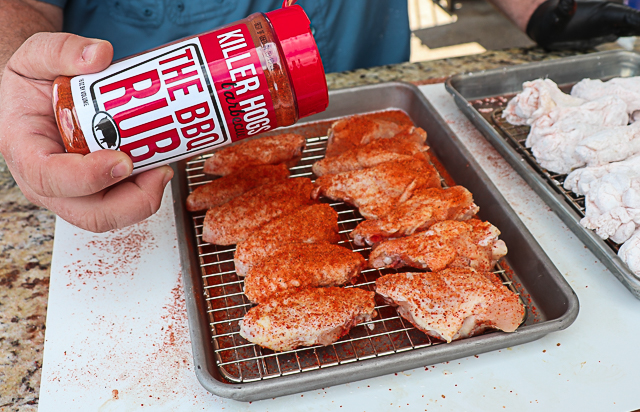 It's a simple technique that produces a crunchy wing on the grill. I set up my weber kettle with a
charcoal vortex
for high heat in an indirect environment. The vortex is a great accessory for any charcoal grill.
Check it out here >>
It took about 30 minutes for the Crispy Grilled Wings to fully cook. I just turned them every 10 minutes or so for even cooking.
To compare the results I cooked some additional wings seasoned with just the rub. Both wings were really good but the crispy wings were more like a traditional hot wing.
Once tossed in a Spicy Garlic Wing Sauce (recipe below), they went to another level. The crunch came through but you could pick up the flavor from the grill.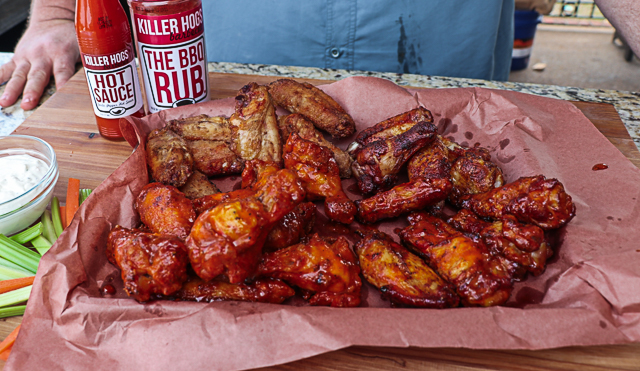 You could use any wing sauce or serve them straight from the grill; let me know how they turn out after you give it a try.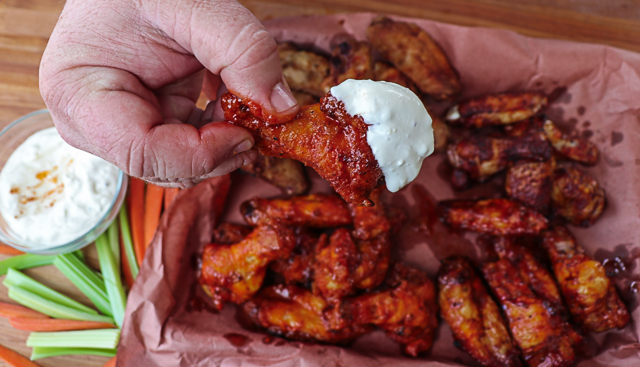 Print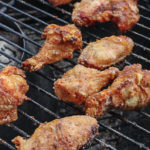 Crispy Grilled Wings Recipe
---
4

lbs Whole Chicken Wings or Party Wings

1/2 cup

Corn Starch

2 Tablespoons

Killer Hogs Rub

12oz

Spicy Garlic Sauce
Spicy Garlic Wing Sauce
6oz

Killer Hogs Hot Sauce

1

stick Butter

1 Tablespoon

Granulated Garlic

1 Tablespoon

Honey

1 teaspoon

Granulated Onion

1 teaspoon

Worcestershire sauce

1 teaspoon

Corn Starch

1 teaspoon

Water
In a small pot over medium heat melt butter. Add hot sauce, garlic, honey, onion, & Worcestershire. Stir to combine and bring to a simmer. In a separate small bowl combine corn starch and water into a slurry. Slowly add corn starch mixture to sauce while continuously stirring. Allow sauce to come to a slight boil and remove from heat. Sauce will thicken as it cools. Use immediately on wings or store in an airtight container for up to a week in the refrigerator.
---
Instructions
Separate whole wings into pieces by cutting through the joint with a sharp knife; also remove the wing tips from the flat portion. (skip this step if using party wings).
Pour corn starch and The BBQ Rub into a gallon size ziplock bag. Add wing sections and toss to coat.
Place wings on a wire rack to air dry and season with a little extra dry rub.
Set up weber kettle with a charcoal vortex accessory to create indirect high heat. (similar type grills will work with the vortex).
Fill the vortex with charcoal and light a fire starter to get the coals hot. After 20 minutes the grill should be ready to cook.
Place the cooking grate over the hot coals and arrange the wings around the outside close to the edge of the grill (not over the coals!). Place 1 piece of wood over the coals for smoke flavor.
Cover the grill with the lid making sure all vents are open 100%. Cook the wings for 10 minutes and flip. Continue cooking and flipping the wings as needed until the outside is brown and crunchy. Total cook time was about 30-35 minutes.
Toss the wings in Spicy Garlic sauce (or your favorite wing sauce) and serve.
Malcom Reed
Connect on
Facebook
Follow me on
Twitter
Subscribe to my
YouTube Channel
Follow me on
Instagram

Crispy Grilled Wings
Have a Question About This Recipe?
Connect with us in our HowToBBQRight Facebook group for recipe help, to share your pictures, giveaways, and more!