Jerk Pork Belly Bites Recipe
Pork Belly Burnt Ends may in fact be the best bite of barbecue you will ever experience. Tender bites of belly meat cubed and smoked until it's melt in your mouth tender, and then glazed in a sweet and spicy sauce….it's pretty much pork heaven! For this recipe I'm putting a Caribbean spin on pork belly burnt ends by marinating them in a fresh, authentic jerk marinade and finishing them off with a caramelized spicy Jerk sauce… You know it has to be good!
I'm starting with a
Cheshire Pork
whole, skinless pork belly. The first step is to cut the pork belly into large cubes. I want the finished bites to be about 1×1 inches so initially the cubes are a little larger, but they will render down during the cooking process so don't worry if they seem a little large at first.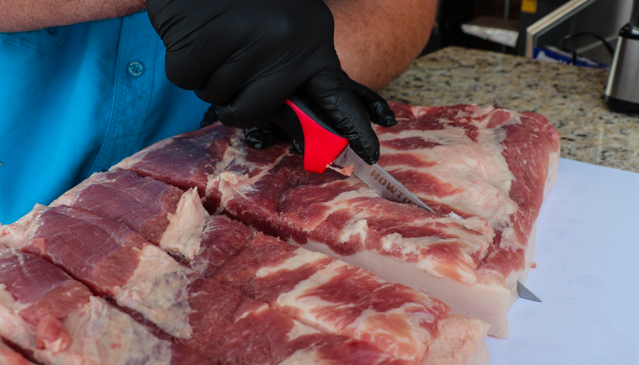 Next they go into a fresh Jerk marinade. You'll need a food processor or blender for this step. Dice up a medium size onion, 5-6 cloves of garlic, fresh ginger, and green onion place it all in the food processor. Also to keep it authentic throw in some pimento pepper and scotch bonnet or habanero pepper (watch these because the heat can get pretty warm). Add a couple tablespoons of Jerk seasoning (my
Jammin' Jerk Seasoning
is perfect here) and fresh lime juice, soy sauce, honey, and water. Puree the whole thing for 2-3 minutes and it's ready. The marinade should have some texture to it, and it's very fragrant.
Place the cubes of pork belly into a large zip top bag or container and pour the marinade over the meat. Work the cubes around so that everything is covered. Place the bag into the refrigerate for at least 6 hours but overnight is best.
After the flavors have time to work on the pork belly it's time for some smoke. I fired up my Traeger pellet grill set for 250 degrees. Use your favorite wood pellet. Authentic jerk is cooked over pimento wood, but you can use any wood (as well as any type pit just keep the heat indirect and the temp around 250).
Place the pork belly cubes on wire
Chicken Racks
sprayed with a little cooking spray to keep it from sticking. Using these racks makes transporting them from the cooker to the cutting board easy. You could place them straight on the pit but it'll take way more time to load/unload this way.
Smoke the bites for 3 hours or until the get some color on the outside and the fat starts to render. At this point transfer them to a full size aluminum pan and add a couple cups of dark brown sugar and the jerk sauce. You can find the recipe for the sauce below (it's the same sauce I used in the
jerk chops recipe
).
Toss the cubes around to mix the brown sugar and sauce. Cover the pan with aluminum foil, and place it on the pit for about an hour. Remove the foil and continue to cook so the sauce caramelizes and reduces. This will make the Jerk Belly Bites sticky and delicious. They'll need about an hour to finish at this point.
Carefully take the Jerk Pork Belly Bites out of the pan (I highly suggest wearing hand protection – a
cotton glove with a nitrile glove
over it works great –
you can check out the details on my glove setup here >>
). Just pile them up on a cutting board or serving platter and let folks dive right in!!!!
Print
Jerk Pork Belly Bites Recipe
---
1

whole skinless pork belly

20oz

Jerk Marinade *recipe below

2 cups

Brown Sugar

16oz

Jerk Sauce *recipe below
Jerk Marinade
1

medium white onion diced

4

green onions chopped

6

cloves garlic minced

2 Tablespoons

ginger minced

1

–

2

Habanero or Scotch Bonnet Peppers chopped

2 Tablespoons

pimento pepper

2 Tablespoons

Jammin' Jerk seasoning

8oz

fresh lime juice

8oz

water

1/4 cup

soy sauce

1/4 cup

honey
Place all ingredients into a food processor and puree for 2-3 minutes.
Jerk Sauce
1 cup

pineapple juice

1 cup

ketchup

1/2 cup

fresh lime juice

1/4 cup

dark brown sugar

2 Tablespoon

butter

2 Tablespoon

Malcom's Jammin' Jerk seasoning

4

cloves garlic minced

3

green onions thinly sliced

1

habanero or scotch bonnet pepper finely chopped (more or less depending on desired heat level)
In a small pot melt butter and sauté garlic, green onion, and pepper for 2 minutes. Add brown sugar, Jammin' Jerk seasoning, ketchup, pineapple and lime juice. Stir to combine and bring to a slight simmer. Remove from heat and pour in a jar.
---
Instructions
Cut pork belly into large cubes. Place cubes into a large zip top bag or container and cover with Jerk Marinade (*recipe below). Toss cubes in marinade to cover and refrigerate for 6 hours up to overnight.
Prepare Traeger pellet grill or other smoker for indirect cooking at 250 degrees using your favorite wood for smoke flavor.
Remove the pork belly cubes from the marinade and place on greased wire cooling racks. Use multiple racks if necessary. Place the racks on the Traeger Grill and smoke for 3 hours.
Transfer the pork belly cubes into a large aluminum food service pan, top with brown sugar and jerk sauce (*recipe below). Toss the cubes in the brown sugar/sauce mixture and cover the pan with aluminum foil.
Place the pan back on the pit and continue to cook for 1 to 1 1/2 hrs. Remove the foil and cook for 1 additional hour uncovered to reduce and caramelize the sauce.
Carefully remove the pan from the pit once the sauce has thickened and the pork belly bites have a deep mahogany color. Serve immediately.
Malcom Reed
Connect on
Facebook
Follow me on
Twitter
Subscribe to my
YouTube Channel
Follow me on
Instagram

Jerk Pork Belly Bites
Have a Question About This Recipe?
Connect with us in our HowToBBQRight Facebook group for recipe help, to share your pictures, giveaways, and more!