Cast Iron Steak Recipe
There's nothing like cast iron for getting a serious sear on a steak. Some folks will even argue that cast iron is the only way to cook a great steak. I don't completely agree with that (
Grill Grates
and Charcoal have won me a lot of money!); but if you want a delicious crust on your steaks – cast iron is the way to go. For this recipe I'm firing up my Big Green Egg and breaking out my trusty
cast iron skillet
. You can cook any cut of steak you prefer, but this week I'm going with something really special – Wagyu Chuck eye steaks from my buddy
Kevin owner of The Butcher Shoppe in Pensacola, Florida
. If you're in the area I highly recommend visiting his shop or you can call the shop and they'll even ship it to you. The biggest difference in Wagyu beef versus what you see in the grocery store is the marbling or fat content. Wagyu beef is grown specifically for the marbling which makes it taste better and makes it more expensive. If you've never tried Wagyu, chuck steaks are a great place to start. The lesser cuts of wagyu are often less expensive and these are the cuts that I prefer. These chuck steaks were only $15 bucks which is cheaper than your average ribeye at the grocery store.
You can cook a steak indoors with cast iron but you better have good ventilation. The cast iron needs to be screaming hot and that produces a bunch of smoke when you add the steak. I prefer to fire up the grill and place the cast iron skillet directly on the cooking grate over the hot coals. I'm looking for a cooking temp of around 500-550°F for searing steak. Once the grill is fired up, it's time to season the steak. I keep it simple Kosher Salt and Corse Ground Black Pepper. You could use whatever seasonings you like but know that some seasoning can burn giving the steak a bad taste.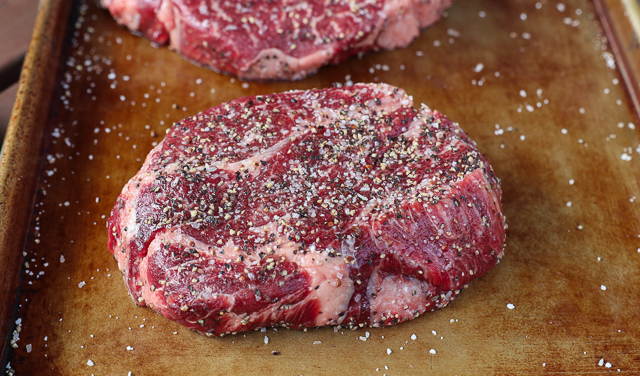 Season the steaks on all sides the Kosher salt and black pepper and let it sit on the counter while the grill comes up to temperature. Once the grill temp hits 500°F place the cast iron skillet on the cooking grate and add 1 Tablespoon of grapeseed oil. I use grapeseed because it stands up well to high temperature cooking. Olive oil, vegetable, canola, or other similar cooking oils can burn which will also give the steaks a terrible flavor.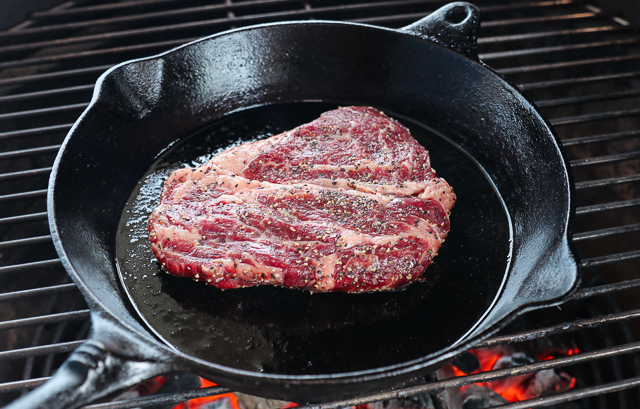 Once you notice a little smoke coming from the surface of the skillet it's time to sear. Place the steak down into the pan and give it a good press for maximum surface contact. It will immediately start to sear.
It needs about 3 minutes on the first side. Flip the steak after 3 minutes and add 3 Tablespoons of butter, a few fresh cloves of garlic (4-5), and a few sprigs of fresh Thyme. Start basting the steak as soon as the butter melts. (Pro tip:
wear a heat glove on one hand and move the skillet on/off the grill for basting – I explain my glove setup here>>
).
Continue to cook the steak for an additional 3 minutes basting every 20 seconds or so. Total cook time for medium rare steak should be about 6 minutes. If you want it more done just continue to cook. You can also check the internal temp with an instant read meat thermometer like a Thermapen.
Once the steak is done remove it from the pan and pour any juices over the top. Let it rest for 5 minutes and serve. The browned butter and garlic make a delicious steak dipping sauce.
Print
Cast Iron Steak Recipe
---
Description
There's nothing like cast iron for getting a serious sear on a steak. And with this recipe we use butter, garlic thyme in the skillet to give it even more flavor.
---
2

–

14

oz Chuck Eye Steaks or your favorite cut (ribeye, strip, filet, etc.)

6 Tablespoons

Butter divided into pats

2 Tablespoons

Grapeseed Oil

1 Tablespoon

Kosher Salt

1 Tablespoon

Coarse Ground Black Pepper

8

–

10

Cloves Fresh Garlic

6

Fresh Thyme Sprigs
---
Instructions
Prepare Big Green Egg or other grill for direct cooking at 500°F (This recipe can be done indoors on the stove but make sure you have proper ventilation)
Season each steak on all sides with Kosher salt and corse ground black pepper. Rest for a few minutes while the grill comes up to temperature.
Place a cast iron skillet on the cooking grate and add 1 Tablespoon of grape seed oil.

 

Allow the pan to heat until the oil starts to slightly smoke.
Place one steak in the skillet and press down for good surface contact.

 

Set a timer for 3 minutes.
Flip the steak and add the butter and half the garlic and thyme.

 

Continue to cook for another 3 minutes basting the steak with the butter mixture several times.

 

After 6 minutes the steak should be medium rare, remove it from the skillet and rest on a platter.

 

Pour the juices from the skillet over the steak.

 

(if you want it more done – keep cooking it until it reaches desired doneness)
Wipe out the cast iron skillet with paper towel and repeat the process for the next steak.
Malcom Reed
Connect on
Facebook
Follow me on
Twitter
Subscribe to my
YouTube Channel
Follow me on
Instagram

Have a Question About This Recipe?
Connect with us in our HowToBBQRight Facebook group for recipe help, to share your pictures, giveaways, and more!