Grilled Rack of Lamb Recipe
This time of year you can easily find lamb at the grocery store – and especially at Sams and Costco. Chell really loves Grilled Rack of Lamb so I always make sure to cook her at least one lamb dish in the spring. I start this recipe off by buying a couple of racks of lamb weighing about 1.5lbs each from Costco. The loins are mostly trimmed
(you want some fat for flavor)
and the bones are frenched (meat removed about 2") so there's not really any prep to do with the meat.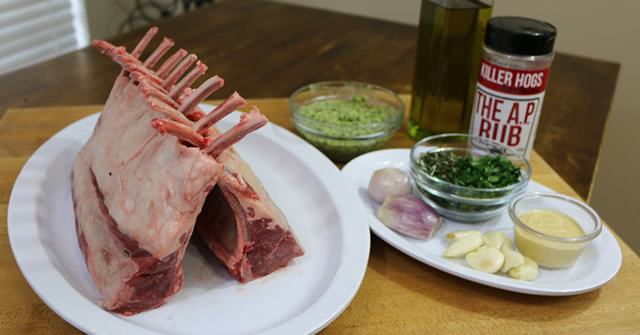 Remove each rack of lamb from cryovac packaging and pat any excess moisture off with paper towel. Lay the racks out on a work surface or large platter and generously season the outside with
Killer Hogs AP rub
; you can substitute Kosher Salt and Cracked Black Pepper here. The next layer of flavor I want to get on the rack of lamb is a sort of "wet rub". It's a combination of fresh herbs, garlic & shallot with a touch of mustard and olive to balance it out. Here's what you'll need:
1 Cup Italian Flat Leaf Parsley
2 TBS Fresh Rosemary
1 TBS Fresh Thyme
5 cloves Garlic
1 Shallot
2 TBS Dijon Mustard
¼ Cup Extra Virgin Olive Oil
Pinch of Salt and Black Pepper to taste
Chop the parsley, rosemary, and thyme and add to the bowl of a food processor. Peel the garlic cloves and smash with the side of your chef knife; roughly chop the shallot and add both to the chopped herbs. Pulse the food processor a few times and then add the Dijon Mustard. Continue processing the mixture for 1-2 minutes while slowly adding the olive oil. More oil can be added until the mixture resembles a paste. This wet rub can be made a day ahead of time. Keep it in the refrigerator to develop even more flavor.
Spread the wet rub over both sides of the Rack of Lamb and let it hang out on the counter for 1 hour. For this cook I'm using my Big Green Egg first set up for direct grilling at 450⁰; and then I'm going to switch it over to indirect heat by adding the plate setter and reducing the temperature to 375⁰F. You can do this on any grill just create a two zone fire running the same temps. Also I'm adding just one chunk of cherry wood to the coals to give a mild, sweet smoke. Anything strong will over power the flavor of the Grilled Rack of Lamb.
After an hour of resting/marinating, the lamb is ready for the grill. Lay each rack on the cooking grate directly over the hot coals and sear each side for 4 minutes. Remove the lamb from the grill and set a side just for a minute while switching the Big Green Egg over to indirect cooking. Once the grill is set up and the temps have dropped to 375⁰F
(should only take a 3-4 minutes)
, place the Grilled Rack of Lamb back on the cooking grate standing up on its' edge bones pointing up. Interlock each bone so the racks support one another. (if you're only cooking one rack just place it meat side up on the rack).
Before closing the lid insert a meat probe
(I use a Themoworks Chef Alarm)
into the center of one of the Grilled Rack of Lamb and set the temperature alarm for 128⁰F. Continue cooking the lamb until the alarm sounds which will be somewhere around 20-30 minutes. Once the alarm sounds remove both Grilled Racks of Lamb from the cooker and allow them to rest for a minimum of 10 minutes sitting on the cutting board. It makes a really cool presentation to serve these just as you cooked them-bones interlocked; I promise your guests will be impressed!
Print
Grilled Rack of Lamb Recipe
---
2

Racks of Lamb (1.5lbs ea)

1 Cup

Italian Flat Leaf Parsley

2

TBS Fresh Rosemary

1

TBS Fresh Thyme

5

cloves Garlic

1

Shallot

2

TBS Dijon Mustard

¼ Cup

Extra Virgin Olive Oil
*Salt and Black Pepper to taste
**Killer Hogs AP Rub can be substituted here to add even more flavor.
---
Instructions
Generously coat the outside of each rack of lamb with Salt and Black Pepper or AP seasoning.
Roughly chop the parsley, rosemary, thyme, garlic, & shallot; add to food processor.
Pulse the herb mixture a few times and add the Dijon mustard.
Process for 1-2 minutes while slowing adding the olive oil.
Brush the wet herb rub onto both sides & edges of the lamb and marinate for 1 hour (can be marinated for 4-6 hrs in refrigerator).
Start grill and bring temperature to 425⁰F add 1 chunk of cherry wood for light smoke.
Place lamb on cooking grate bone side down for 4 minutes.
Flip each rack and cook for additional 4 min.
Remove lamb from grill or move to cool zone. Reduce grill temperature to 325⁰F over indirect heat.
Place lamb back on the grill standing vertical with bones interlocked.
Insert probe thermometer in the center of meat set for 128⁰F.
When alarm sounds remove lamb from grill and rest for 10 minutes before serving.
Malcom Reed
Connect on
Facebook
Follow me on
Twitter
Subscribe to my
YouTube Channel
Find me on
Google+
Follow me on
Instagram

Have a Question About This Recipe?
Connect with us in our HowToBBQRight Facebook group for recipe help, to share your pictures, giveaways, and more!