Texas Style Ribs Recipe
With Texas Style Ribs it's all about the meat and the smoke… and what seasonings they do use, they keep simple. And there is nothing wrong with simple… Beef is king in Texas, but they also do some mighty fine pork ribs… and that is what I'm doing today – my take on a Texas Style Rib. For these Texas Style Ribs I'm using a really good quality meat, salt, pepper and smoke. I'm starting with 2 slabs of spare ribs. These ribs are a heritage breed and they have a lot of marbling, so you know they are going to be good.
To season these Texas Style Ribs I use no binder – just a mixture of salt and pepper (2 parts pepper to 1 part salt). Then I get them on the smoker running at 275 with a light smoke. Traditionally in Texas they use Post Oak, but I didn't have any on hand and substituted a few chunks of local pecan wood.
After 45 minutes in the smoke, I spritz the Texas Style Ribs with a mixture of 1 cup Water and ½ cup Apple Cider Vinegar. Keep smoking for 2.5 hours and make sure to baste every 45 minutes or so.
Once the ribs reach the dark, mahogany color I'm shooing for, I wrap them in foil – adding a little additional baste to the wrap. Now it's time to get the Texas Style Ribs tender. I'm shooting to smoke the ribs in the foil for an additional 2 hours. But I always check 1 hour into the wrap. Then again at the 1 hour and 30 minute mark… and again at the 1 hour and 45 minute mark. These two slabs of ribs were done at the 1 hour and 45 minute mark.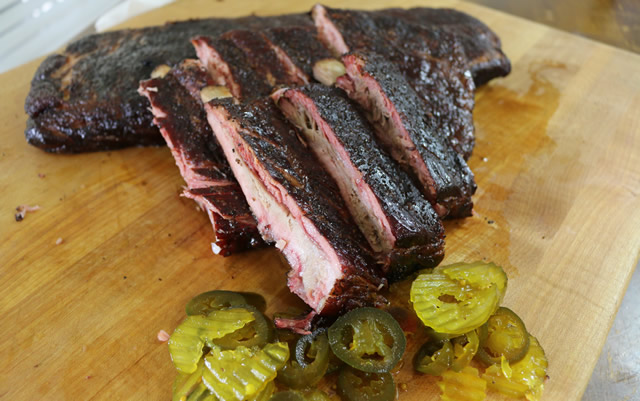 Once the ribs are tender, I pull them off the smoker and allow them to rest for about 15 minutes. Then it's time to eat! These Texas Style Ribs are simple, smokey, moist and delicious. I couldn't' stop eating these ribs! If you like a simple, tender rib, You've got to give these Texas Style Ribs a try.
Print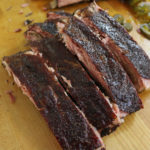 Texas Style Ribs Recipe
---
2

slabs St. Louis Spare Ribs

½ cup

Coarse Ground Black Pepper

¼ cup

Kosher Salt

1 cup

Water

½ cup

Apple Cider Vinegar
---
Instructions
Prepare Smoker for indirect cooking at 275⁰.
Remove ribs from packaging, trim excess fat and remove membrane from bone side.
Combine Salt and Black Pepper in a bowl and pour into a shaker bottle.
Season ribs liberally on both sides with salt/pepper mixture.
Place ribs on smoker and add pecan wood chunks to the fire for smoke.
Mix Water and Apple Cider Vinegar in a spray bottle.
Spritz ribs every 45 minutes.
After 2.5 hours remove ribs from smoker, spritz with vinegar mixture and wrap in aluminum foil.
Return ribs to smoker and continue to cook for approximately 2 hours. (Check ribs for doneness after 1 hour and every 15 minutes after. Once desired tenderness is reached pull of smoker)
Rest ribs for 15 minutes and serve.
Malcom Reed
Connect on
Facebook
Follow me on
Twitter
Subscribe to my
YouTube Channel
Find me on
Google+
Follow me on
Instagram

Texas Style Ribs
Have a Question About This Recipe?
Connect with us in our HowToBBQRight Facebook group for recipe help, to share your pictures, giveaways, and more!