Spicy Smoked Ribs Recipe
If you're like me and like your ribs with a little kick, you're gonna love this spicy smoked ribs recipe. I'm using my new
Killer Hogs Hot BBQ Rub
that I've been working on for a while, and I finally got it right. It has the same color as our Killer Hog rub, but instead of being sweet, it has a savory, spicy kick. I started with a couple slabs of St. Louis Cut Spare Ribs. You could use loin back ribs if you want but I like the meaty, spare rib for eating. You'll want to remove the membrane from the back of the ribs first, then rinse them under cool water to wash off any bone fragments from processing. Pat the ribs dry with a paper towel, and let them sit on the counter for a few minutes to air dry.
I'm not using mustard or any type of binder on these ribs. They're getting a medium coat of my new
Killer Hogs Hot BBQ Rub
and that's it. I let them sit for 2 hours in the fridge kind of a dry brine. For these spicy smoked ribs I'm using my Big Green Egg set up with the deflector plate. As always you can cook them on any grill or smoker set up for indirect cooking. The smoking temperature needs to be running in the 250⁰ range for this cook. I use Lump coal in the Egg with a several chunks of Pecan wood (or your personal favorite) scattered around for smoke.
Place the ribs on the cooking grate and close the lid. After 45 minutes of smoke, I start spritzing them with plain water. It's just for a little extra moisture since we're cooking with dry heat; also layer on a little dust of rub if they look like they need it. Continue to cook the spicy smoked ribs spritzing as needed for 2 ½ -3 hours. I typically flip the ribs over once during the smoke process so they'll have even color on both sides.
For wrapping you'll need some Heavy Duty aluminum foil. Tear off a couple sheets long enough to cover the ribs. Place each slab on a sheet meat side up first. Spritz with water, dust a little rub on the meat side, and flip the slab over (meat down, centered in the foil). The bone side gets a spritz, more rub, and 2 Tablespoons of Tiger Sauce (it's a spicy flavored cayenne pepper sauce you can find in most super markets). Bring the foil up around the ribs and pour in about 3oz of Apple Juice for added moisture. Close the foil tight and crimp the ends so nothing can leak out. Place the ribs back on the smoker for 1-2 hours or until tender. I always check the tenderness after 1 hour of cooking in the wrap. Tenderness can be a little subjective. In contest we want a rib that's tender enough to get a clean bite but doesn't fall apart; but some people like ribs that almost fall off the bone. I'm somewhere in the middle. I want the ribs to be juicy and soft; that's a perfect eating rib in my book.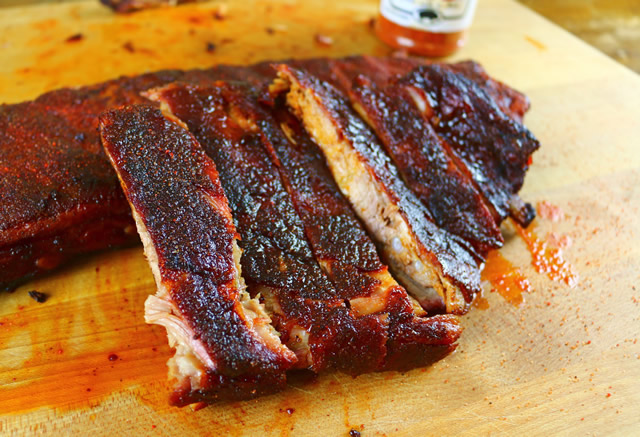 These spicy smoked ribs were just right at just over an hour, so off they go for the all-important rest. Just let them sit out on the counter for 20-30 minutes. Be sure to vent the foil so steam can escape. This step lets the ribs cool off, making them easier to handle; plus it gives them a chance to tighten up just a little.
*remember this if you accidentally take the ribs over a little.
At this point these ribs are ready to eat. I like them dusted with just a touch more of rub. If you want them wet, go ahead and slather on your favorite sauce and place them back on the pit for a few minutes.
They're perfect cut into 1 bone pieces; I promise, you can eat a whole slab of these ribs! The flavor is bold and the spice is just right! Hope you enjoy this recipe!
Print
Spicy Smoked Ribs Recipe
---
---
Instructions
Remove membrane from bone-side of ribs. Use a sheet of paper towel for easy grip.
Rinse ribs under cool water and pat dry.
Season each side with Killer Hogs Hot BBQ Rub and rest for 2 hours in refrigerator.
Prepare Big Green Egg or other smoker/grill for indirect cooking at a temperature of 250⁰ using lump charcoal and 2-3 chunks of Pecan wood for smoke.
Place ribs on Big Green Egg
Smoke ribs for 2 ½ – 3 hours spritzing with water every 45 minutes. Add a light dust of rub as needed.
Tear off 2 sheets of aluminum foil long enough to wrap the ribs.
Place the ribs meat up on the foil and spritz with water to moisten, sprinkle lightly with rub, then flip over to meat-side down.
Spritz the back side, sprinkle lightly with rub, and drizzle on 2 TBS of Tiger Sauce.
Fold the foil up and pour in 3oz of apple juice; wrap the foil tightly around the ribs and close the ends.
Place the ribs back on the cooker for approximately 1 ½ – 2 hours or until tender.
Carefully unfold the foil and test the ribs for tenderness. You should see draw back on the bones and when slightly twisted the bones should almost move free.
Rest the ribs for 20-30 minutes on the counter, cut into individual bones and serve.
Malcom Reed
Connect on
Facebook
Follow me on
Twitter
Subscribe to my
YouTube Channel
Find me on
Google+
Follow me on
Instagram

Spicy Smoked Ribs Recipe
Have a Question About This Recipe?
Connect with us in our HowToBBQRight Facebook group for recipe help, to share your pictures, giveaways, and more!