Pork Belly Burnt Ends Recipe
We're talking about Pork Belly Burnt Ends! The Best part of a good brisket is the fatty point and in competitions we turn those into mouth drooling Burnt Ends. These uber tender chunks of brisket will melt in your mouth when done just right, and judges go crazy over them.
This got me to thinking and I decided to come up with my take on a version of Burnt Ends using Pork Belly.
Pork Belly is a delicacy in the bbq world, and what could be better than sweet, sticky little cubes of delicious fatty goodness. (Webster doesn't have the adjectives to describe these things!)
WHAT MALCOM USED IN THIS RECIPE:
Print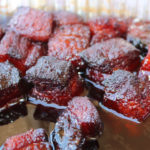 Pork Belly Burnt Ends Recipe
---
Pork Belly Burnt End Glaze
¼ cup

Apple Juice

¼ cup

Apple Jelly

1 Tablespoon

Frank's Hot Sauce
---
Instructions
Prepare charcoal smoker for indirect cooking at 250-275⁰. Add 2 chunks of Cherry Wood for smoke.
Remove pork belly from packaging and cube into 1 ½" x 1 ½" pieces.
Season all sides of the pork belly cubes with The BBQ Rub.
Arrange cubes onto a full size cooling rack and place on smoking grate.
Smoke pork belly for 2 – 2 ½ hours.
Place each Pork Belly Burnt End into an aluminum pan and cover with brown sugar and honey. Arrange butter in between the pork belly pieces.
Cover pan with aluminum foil and return to smoker for 1 ½ hours or until the pieces are tender.
Drain the liquid from the pan and add the Pork Belly Glaze to the burnt ends. Toss gently to coat each piece and return to the smoker to set the glaze for 5-10 minutes and serve.
For this recipe I'm starting with an 8lb pork belly cut into 1 ½" squares. The reason for cubing it from the start is to develop a slight bark on all sides of the pork belly. It gives me more surface area to apply dry rub and bark is flavor town.
Season each cube with Killer Hog's The BBQ Rub and arrange them on a cooling rack for easy transportation.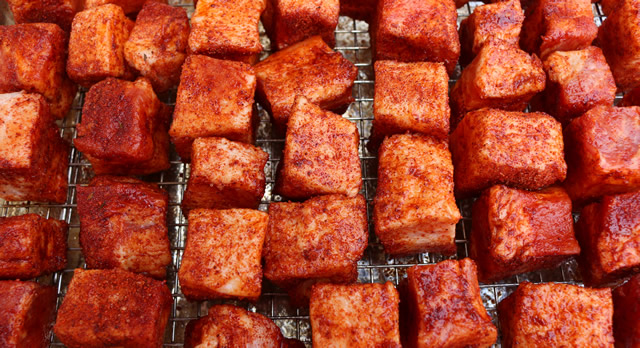 The biggest challenge of this cook is to render the pork belly slowly, so the fat melts and leaves behind a tender bite of meat packed with flavor and moisture.
You'll need an indirect smoker to accomplish this, so today I'm firing up my Gateway drum. Once it comes up to 250 degrees all we need is a little smoke (GrilleWood Cherry does the trick) and it's time to get those burnt ends on the pit.
Sit the cooling rack right on the grill grate and let the smoker go to work. It'll take about 2 hours to develop the right color on the outside, then it's time to tenderize.
Carefully remove the cooling rack from the pit (use some gloves) and place each burnt end into an aluminum pan. Cover the burnt ends with ½ cup of brown sugar and a good drizzle of honey.
And if you thought I wasn't going to add even more fat (flavor) to this recipe you would be highly mistaken. Slice up 1 ½ sticks of butter and scatter around the pan. Cover the pan with foil and return it to the smoker.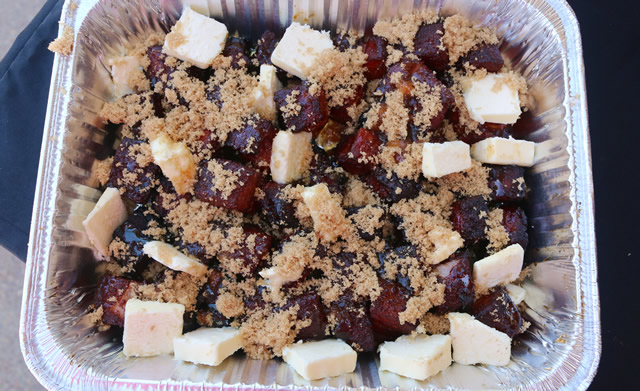 These Pork Belly Burnt Ends are getting real happy now!
The fat is melting and the sugars are caramelizing all over the outsides. They'll need about 1 ½ – 2 hours in the pan to get perfectly tender so just let the cooker work its magic.
At this point you'll want to test a couple. Don a pair of gloves and squish one in between your fingers. It should have some texture but overall feel extremely soft. I didn't bother to test the internal temp but if I had to guess it should be somewhere in the 205⁰ ball park. Remember we want them to almost melt in your mouth!
Remove the pan from the cooker and drain the liquid. We're not done just yet; the last step in the process is to add my Pork Belly Glaze.
Pork Belly Burnt Ends Glaze:
Combine all ingredients in a small pan and simmer over medium heat until smooth.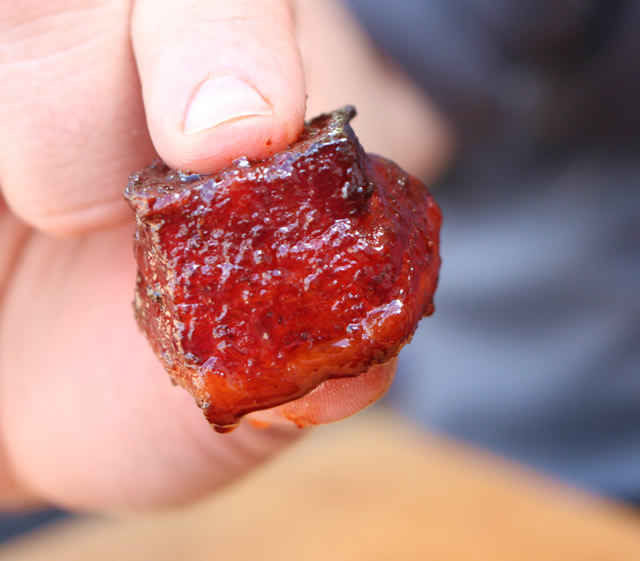 Drizzle the Pork Belly Burnt Ends with the glaze and gently toss to coat all sides. Set them back in the cooker for about 5-10 minutes just long enough to caramelize and you're ready for the most amazing bite of BBQ you've ever experienced!
Malcom Reed
Connect on Facebook
Follow me on TikTok
Subscribe to my YouTube Channel
Follow me on Instagram

Pork Belly Burnt Ends
Have a Question About This Recipe?
Connect with us in our HowToBBQRight Facebook group for recipe help, to share your pictures, giveaways, and more!