Standing Rib Roast Recipe
If you're looking for something special to serve at your next holiday gathering, this recipe is for you. It's my version of a Standing Rib Roast, and you know I'm firing up the smoker to prepare it! Standing Rib Roast is simply a section of a whole bone-in ribeye; you can typically find them at any grocery store or butcher shop, just ask the person behind the counter.
For this recipe I bought a 4 bone rib roast and I had the butcher to "French" the bones. All that means is the ends of the bones are exposed a couple inches to make it look fancy. There's not a lot of prep for this recipe; once you get the rib roast home, trim any excess fat off the top (usually there's a little fat cap to remove) and truss the roast with butcher twine between each bone to help hold it in shape during cooking. Go ahead and fire up your smoker (I'm using my Gateway Drum for this cook but any smoker will do the job). Set it up for indirect cooking running at 275⁰. When the temperature stabilizes add a couple chunks of pecan wood to the coals for smoke.
For the seasoning I like to create a nice bark on the outside of the meat using a good dose of salt, pepper and herbs. I use a combo (2 Tablespoons each) of my
AP Rub
and
Steak Rub
to create a coarseness to the bark. But you can use any quality All Purpose rub and a corse Steak Seasoning here. For the herbs I finely chop Rosemary, Thyme, and Sage about 1 heaping Tablespoon of each along with 6 cloves of garlic. Combine all of these ingredients in a small bowl. Drizzle the outside of the rib roast with olive oil and sprinkle the seasoning mixture all over the outer surface. You can season the roast a couple hours ahead of time if you like.
Once the smoker is up to temperature, place the rib roast on the pit and insert a probe thermometer into the center for monitoring internal temperature. Set the alarm for 125⁰ and let the roast smoke.
When the alarm goes off, verify the internal temperature with a hand held thermometer –
I'm using my Thermapen Mk4
– and remove the Rib Roast from the pit. Loosely cover it with aluminum foil and just let it hang out for 20 minutes before carving.
To serve, use a carving knife and make a cut along the top of the rib bones to remove them.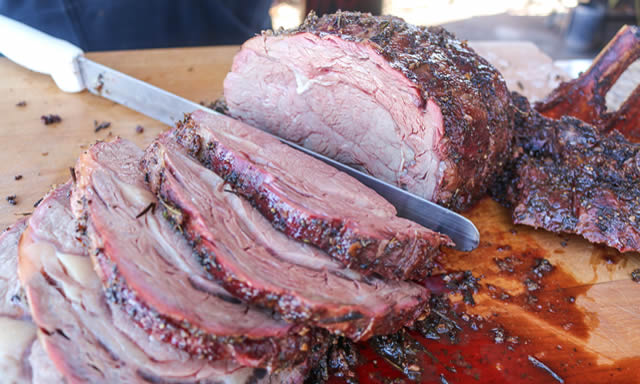 Lay the roast cut side down on the cutting board and slice into desired thickness. You can serve it with Au Jus or a spicy Horseradish Sauce just don't overcook this piece of meat; it's best rare to medium rare and will melt in your mouth!
Print
Standing Rib Roast Recipe
---
4

Bone Rib Roast

¼ cup

Olive Oil

2 Tablespoons

Killer Hogs AP Rub

2 Tablespoons

Killer Hogs Steak Rub

1 Tablespoon

Rosemary finely chopped

1 Tablespoon

Sage finely chopped

1 Tablespoon

Thyme finely chopped

6

cloves Garlic minced
---
Instructions
Prepare smoker for indirect cooking at 275⁰; add a couple chunks of seasoned pecan wood to
the hot coals for smoke flavor.
French the ends of the rib roast by trimming away 1 ½-2" of meat between each bone (you can
ask your butcher to do this as well). Truss the roast with butcher twine.
In a small bowl combine the AP Rub, Steak Rub, rosemary, sage, thyme, and garlic.
Coat the outside of the rib roast with olive oil and sprinkle the seasoning mixture on the outside.
Place the rib roast bone side down on the smoker and cook until internal temperature reaches
125 degrees. Use a probe thermometer to monitor internal temperature.
Remove the roast from the smoker and loosely cover with aluminum foil for at least 20 minutes.
To serve: carve the bones away from the rib roast and place it cut side down on the cutting
board. Slice the roast into desired slices and serve.
Malcom Reed
Connect on
Facebook
Follow me on
Twitter
Subscribe to my
YouTube Channel
Find me on
Google+
Follow me on
Instagram

Have a Question About This Recipe?
Connect with us in our HowToBBQRight Facebook group for recipe help, to share your pictures, giveaways, and more!