Elk Steaks Recipe
Elk is some of the finest red meat on the planet. Being from Mississippi, I don't get the chance to eat it very often, but when a friend offered some from a recent harvest; I jumped on the chance. For this recipe I wanted to savor the taste of the elk, so I kept the seasoning to a minimum. Coarse Salt and Black Pepper are all that's needed. I'm also using a cast iron skillet over hot coals to sear the outside, leaving it rare to medium rare in the center. This process works for any type of steak, so feel free to try it with beef as well. I have my weber kettle fired up for this cook with my Santa Maria attachment from
Gabby Grills
. It gives me the ability to raise and lower the grate over the coals, which makes regulating the temperature very easy.
First we need to season each elk steak with salt and black pepper. When the coals are good and hot, place an iron skillet directly on the grill grate and let the skillet heat up a bit. This shouldn't take long at all, only 2-3 minutes if you your coals are burning properly.
Add a tablespoon of butter to the skillet and let it melt. Place one of the steaks in the center of the skillet and let it sear for 2 minutes. At this point add a few cloves of garlic, a sprig of fresh rosemary, and an additional tablespoon of butter to the skillet. Now it's starting to smell really good!
After 2 minutes flip the elk steak over, and begin basting it with the butter mixture left in the pan. It needs about 2 more minutes to cook to medium rare – which is just where I like it.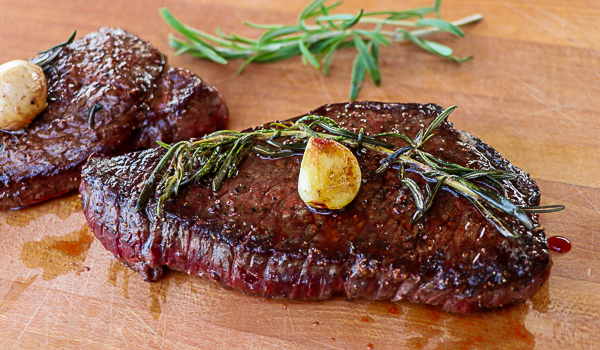 At this point remove the steak from the grill and let it rest while repeat the process for the next steak. Be sure to wipe out the skillet between each cook and give it a few minutes to get hot before adding the next steak.
You also want to rest each one for 5-7 minutes to let the juices redistribute throughout the meat or you'll lose all that delicious flavor when you cut into it.
Print
Elk Steaks Recipe
---
2

Elk Steaks 10-12oz ea

1 Tablespoon

Kosher Salt

1 Tablespoon

Ground Black Pepper

4 Tablespoons

Unsalted Butter

6

Cloves Garlic

2

Sprigs Fresh Rosemary
---
Instructions
Prepare charcoal grill for direct cooking over Lump charcoal.
Season each elk steak with salt and black pepper on both sides.
Place cast iron skillet on grill grate directly over hot coals.
Add 1 Tablespoon of butter to iron skillet and allow to melt.
Place one of the elk steaks in the iron skillet and sear for 2 minutes. Add 2-3 cloves of garlic and 1 sprig of rosemary to the skillet along with 1 additional Tablespoon of butter.
Flip the steak and cook for 2 minutes, baste the top with the butter mixture as it cooks.
Remove the elk steak from the skillet for medium rare or continue to cook until desired doneness is reached.
Wipe the skillet out with paper towel and repeat the above process for the remaining steak.
Rest each steak for 5-7 minutes before serving.
Malcom Reed
Connect on
Facebook
Follow me on
Twitter
Subscribe to my
YouTube Channel
Find me on
Google+
Follow me on
Instagram

Have a Question About This Recipe?
Connect with us in our HowToBBQRight Facebook group for recipe help, to share your pictures, giveaways, and more!