Hickory Smoked Prime Rib Recipe
It's a beautiful thing turning a whole ribeye roast into a delicious, smoked Prime Rib. This recipe is the best Christmas gift you can share with your friends and family; and it's easily accomplished on your smoker.
I start with an 18lb boneless whole ribeye from Sams club. Remove it from the cryovac packaging and use paper towel to soak up any moisture. Place it on a cutting board and remove the sinew and excess fat. Tie the ribeye with butcher Twine down the length of the entire roast spacing the twine 1 1/2" apart. This will help it cook more evenly and maintain shape. Coat the outside of the ribeye with with a light layer of extra virgin olive oil and season with a heavy dose of
Killer Hogs AP Rub
(or salt, pepper, garlic). Next layer on a light dusting of BBQ Rub (I used my
Killer Hogs Hot Rub
).
For the herb crust finely chop fresh rosemary, sage, and thyme. Place the herbs in a small bowl and add 6 cloves of fresh garlic minced and 1/2 cup of
Killer Hogs Steak Rub
. Give this mixture a quick stir to combine and apply it to the outside of the Ribeye Roast.
For this smoked prime rib cook I fired up my Gateway Drum but you can easily use any grill or smoker. Just set it up for indirect cooking at 275 degrees. I ran a bed of lump coals with a couple chunks of hickory for smoke flavor. As soon as the pit reaches temp, place the ribeye on the center of the cooking grate and let the smoke roll. At this point all you have to do is let it cook until it hits desired doneness. For me it's 120-122 degrees internal. I use a wired meat probe stuck into the middle of the Prime Rib to watch the internal temperature with a close eye. The biggest mistake you can make is over cooking a gorgeous cut of beef like this.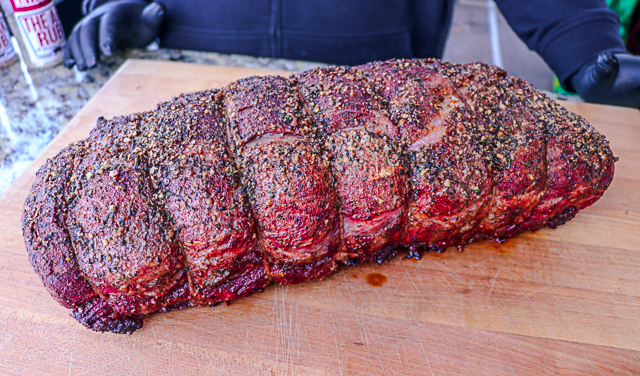 When the alarm goes off, transfer the Smoked Prime Rib to a large platter and tent it with foil. Wait at least 20 minutes before carving. (This step is crucial too!)
When ready to serve use a large slicer knife to cut the Smoked Prime Rib into desired slices. I like to serve it with a creamy horseradish sauce and the left over juices from the platter. Prime Rib is one meat centerpiece that should be on every Holiday Table!
Print
Hickory Smoked Prime Rib Recipe
---
18

lb Whole Ribeye Roast

2 Tablespoons

Olive Oil

1/4 cup

Killer Hogs AP Rub

1 Tablespoons

Killer Hogs Hot Rub

1/2 Cup

Killer Hogs Steak Rub

6

cloves Garlic minced

1 Tablespoon

Rosemary chopped fine

1 Tablespoon

Sage chopped fine

1 Tablespoon

Thyme chopped fine
---
Instructions
Prepare smoker or grill for indirect cooking at 275 degrees, add 2 chunks of hickory wood for smoke flavor.
Trim excess fat and sinew from ribeye roast and tie with butcher string to hold shape during cooking.
Drizzle the outside with olive oil, season with AP Rub and Hot Rub.
In a small bowl combine fresh herbs with Steak Rub; apply in a heavy layer to outside of ribeye.
Place the whole ribeye on the smoker and cook until internal temperature reaches 120-125 or your desired doneness about 2.5 hrs.
Rest the Prime Rib for a minimum of 20 minutes before carving. Serve with creamy horseradish or au jus.
Malcom Reed
Connect on
Facebook
Follow me on
Twitter
Subscribe to my
YouTube Channel
Find me on
Google+
Follow me on
Instagram

Have a Question About This Recipe?
Connect with us in our HowToBBQRight Facebook group for recipe help, to share your pictures, giveaways, and more!