Bacon Burnt Ends Recipe
Bacon Burnt Ends just sounds delicious – and I promise you, they are. These are sticky little cubes of heaven. I first tried Bacon Burnt Ends at Heim Bbq in Fort Worth Texas. After that first bite, I fell in love with these sinfully, delicious morsels. Skip ahead a few years and several pork bellies later; I had the pleasure of running into the owners, Travis and Emma Heim, at the Certified Angus Beef BBQ Summit in Ohio. I immediately brought up those delicious Bacon Burnt Ends, and they assured me that they are still on the menu and folks still go crazy over them. As far as I know Travis came up with idea to cut slab bacon into cubes and call it "burnt ends". I sincerely thank him for the idea and for sharing it with Texas and the world!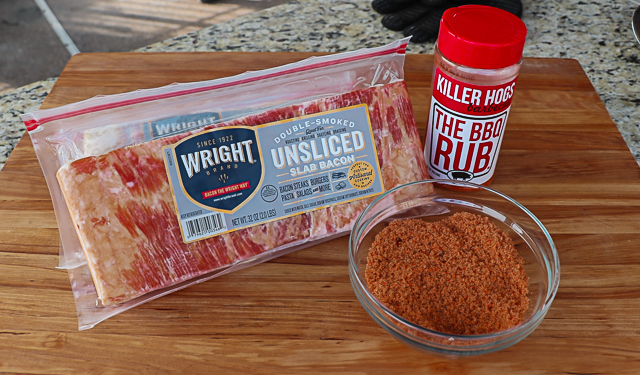 It just so happens that my local Sams Club now has Wright's Brand Bacon unsliced, so I grabbed a couple packs to make my own version of Bacon Burnt Ends.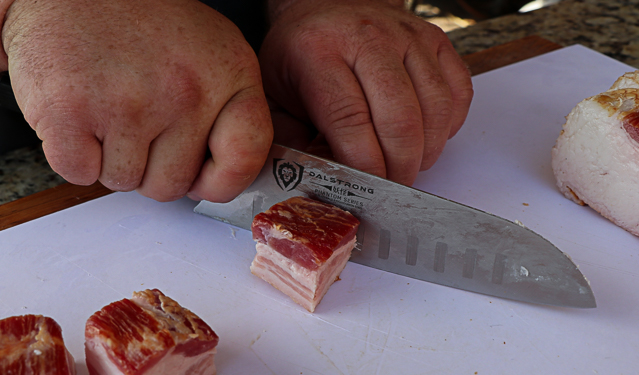 It's pretty simple. I sliced the slab bacon into 1 inch cubes and then tossed them in a mixture of 1/2 cup Light Brown Sugar and 2-3 Tablespoons of
Killer Hogs The BBQ Rub
.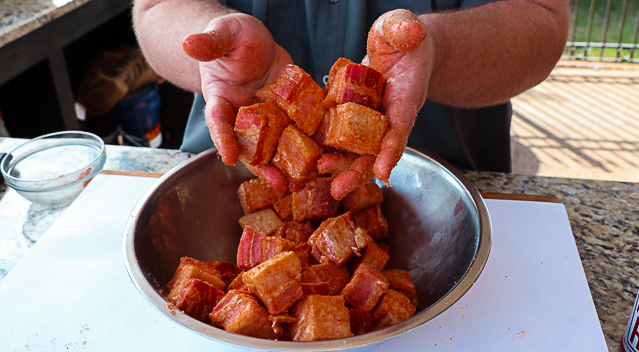 I placed these bacon burnt ends on a
chicken Rack (you can find one here >>)
and placed them in my Ole Hickory Pits CTO Smoker with lump charcoal and a couple chunks of
SmokerWood.com
Cherry Wood. You can cook these on any smoker, just hold the temps steady at 250-275 and keep the smoke light and mild.
After 1 hour in the smoke, I flipped the bacon burnt ends – so they will cook evenly and to prevent them from sticking.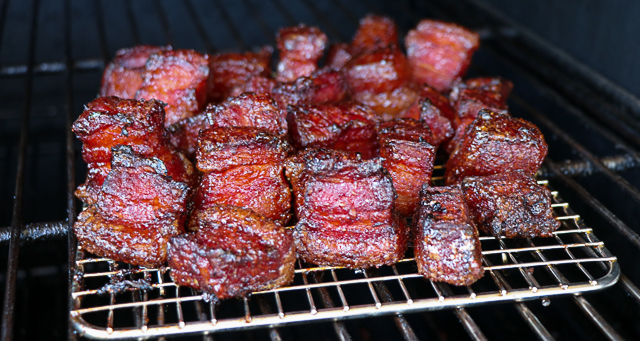 Then after 2 hours of smoke, these little bites of sticky goodness were ready for a glaze. I removed them from the smoker, placed them in a small pan and tossed them with 18oz
Killer Hogs The BBQ Sauce
and 8oz
Kosmo's Cherry Apple Habanero Rib Glaze
–  and then placed the Bacon Burnt Ends pan back on the smoker for 20-30 more minutes.
After the sauce has started to caramelize and the burnt ends are tender, it's time to dive in. It's hard to eat just one… they are rich, sticky, sweet and decadent. One thing is for sure, these Bacon Burnt Ends makes for one sinful appetizer that you have to try!
Print
Bacon Burnt Ends Recipe
---
4

lbs Wright's Unsliced Bacon

1/2 cup Light Brown Sugar

2 Tablespoons

Killer Hogs The BBQ Rub

18oz

Killer Hogs The BBQ Sauce

6oz

Kosmo's Cherry Apple Habanero Rib Glaze
---
Instructions
Prepare Smoker or grill for indirect cooking at 250 degrees. Add 2 chunks of cherry wood to hot coals for smoke flavor.
Remove bacon from packaging and cut into 1 1/2" strips lengthwise. Cut each strip into 1 1/2" cubes.
Combine the brown sugar and The BBQ Rub in a small bowl. Place the cubes of bacon in a large bowl and season with the sugar mixture. Toss to coal even.
Lightly coat raised cooling rack with canola cooking spray and place bacon burnt end pieces on the rack. Use multiple racks if necessary
Place the racks on the smoker and cook for 1 hour. Flip each burnt end piece over and continue to cook for 1 additional hour.
Combine The BBQ Sauce and Rib Glaze. Remove the bacon burnt ends from the smoker and place each piece in a half size aluminum pan. Drizzle the sauce over the top and gently toss to coat even.
Place the pan back on the smoker and glaze for 20-30 minutes. Remove the pan from the smoker and allow too cool slightly before serving.
Malcom Reed
Connect on
Facebook
Follow me on
Twitter
Subscribe to my
YouTube Channel
Follow me on
Instagram

Bacon Burnt Ends
Have a Question About This Recipe?
Connect with us in our HowToBBQRight Facebook group for recipe help, to share your pictures, giveaways, and more!