Reverse Seared Tri Tip Recipe
Kendal Adair from
SmokednSpiced
stopped by the HowToBBQRight headquarters this week to show me how he does his Reverse Seared Tri Tip –
competition style.
We both competed against each other earlier this year at a local SCA contest where Tri Tip was one of the categories. He walked with a top finish in Tri Tip, so needless to say, I was eager to learn his secrets.
For this recipe Kendal starts with a 3lb, Prime Grade Tri Tip from
Matador Prime Steak
. Starting with a good quality piece of beef puts you on the right foot, but you also have to know how to properly cook it. After a quick trim to remove any excess fat and silver skin, Kendal hit the tri tip with a good dose of coarse ground Kosher Salt. He uses the salt as a dry brine and only leaves it on the tri tip for 8-10 minutes. The salt is rinsed off and then he tenderizes it using a jaccard. Next comes the seasonings where he builds the flavor. First a dose of
Killer Hogs AP Rub
for savory salt, pepper, garlic notes; then a spicy BBQ Rub – my
Killer Hogs Hot Rub
here, followed lastly with coarse ground black pepper for a little more oomph.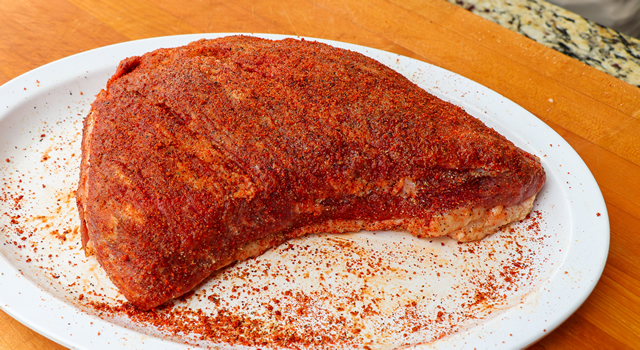 The cook was pretty straight forward for a reverse sear. Fire up a smoker to 275⁰, insert a meat probe to monitor temp, and take it off the smoke once it hits 115⁰. We used the
Thermoworks DOT
to monitor the temps.
You can check out the DOT probe here >>
Kendal used my Traeger for this stage of the cook and while the tri tip was in the smoke he fired up a
PK 360
for the sear. And we used a set of
GrillGrates
on top of the factory grate to get those amazing grill marks.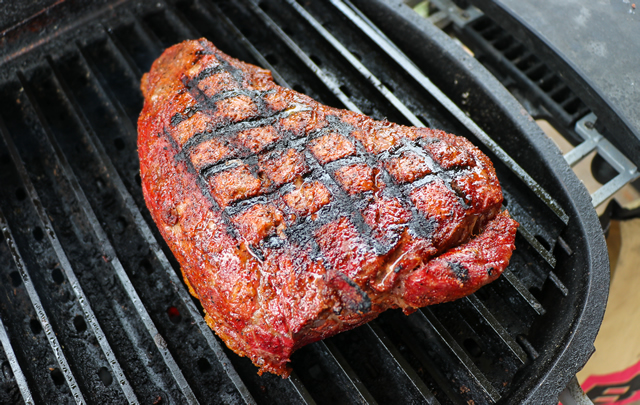 As soon as the tri tip hit 115⁰ internal, he immediately moved it to the grill grates on the
PK 360
and put a hot and fast sear on both sides. The tri tip came off the
PK Grills
once the internal hit 125⁰ but you can cook it to your desired doneness. To check out final internal temp, we used my trusty
Thermoworks Thermapen
.
For the rest, Kendal gave the tri tip another quick coat of Killer Hogs AP Rub, then wrapped it in butcher paper.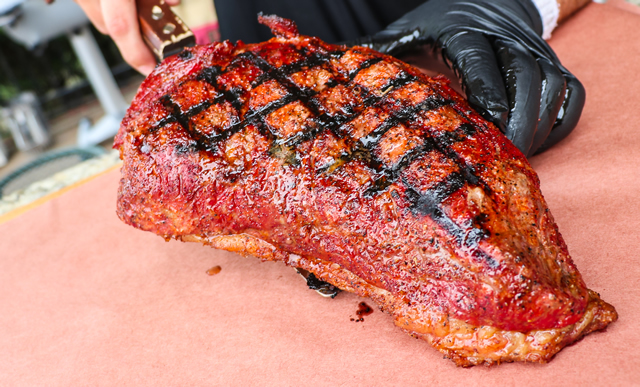 After a short 10 minute rest, Kendal sliced it across the grain and we dove in for the kill bite.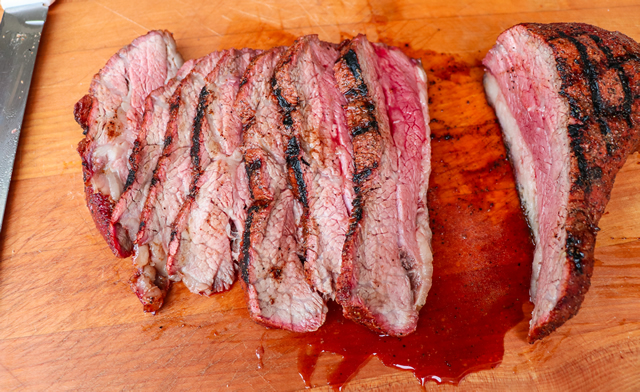 The thing that most impressed me with this cook was the tenderness of the tri tip. The combination of the salt brine and jaccard tenderizing produced a prime rib-like mouth feel. Tri tip tends to be a little tough if it's not properly prepared but this version melted in your mouth! And it was perfect served with a big side of
Lobster Mac & Cheese >>
Print
Reverse Seared Tri Tip Recipe
---
3

lb Tri Tip Roast

1/4 cup

Kosher Salt

2 Tablespoons

Killer Hogs AP Rub

2 Tablespoons

Killer Hogs Hot Rub

1 Tablespoon

Coarse Ground Black Pepper
---
Instructions
Prepare pellet smoker or any other grill/smoker for indirect heat at 275 degrees.
Trim excess fat from Tri Tip (leave 1/4" fat on bottom side if possible).
Season the Tri Tip with Kosher Salt and rest for 8-10 min.
Rinse salt off under cool water and pat dry with paper towel.
Use a jaccard to tenderize the Tri Tip.
Season with AP, Hot Rub, snd Blsck Pepper.
Place tri tip on smoker and cook until internal temp reaches 115 degrees.
Prepare charcoal grill for direct searing at 600 degrees.
Seat Tri Tip for 3-4 minutes on both sides until internal temperature reaches 125 or your desired doneness.
Once Tri Tip hits doneness, wrap in butcher paper and allow to rest for at least 10 minutes.
Slice across the grain and serve.
Malcom Reed
Connect on
Facebook
Follow me on
Twitter
Subscribe to my
YouTube Channel
Find me on
Google+
Follow me on
Instagram

Have a Question About This Recipe?
Connect with us in our HowToBBQRight Facebook group for recipe help, to share your pictures, giveaways, and more!