This week the weather kept us from firing up the smoker – my entire backyard was a sheet of ice! But we're not going to let the cold weather get us down. So I pulled some of the left-over Pulled Pork out of the freezer and decided to make a
Brunswick Stew – Mississippi Style.
Brunswick Stew is real hardy.. a perfect cold-weather food. Brunswick Stew is something you find in most BBQ Joints over in Georgia, Virginia or the Carolinas. And it's usually served as a side dish. You can use pretty much any type of meat in Brunswick Stew – and it's perfect for left over BBQ. You can use smoked chicken, left-over brisket… but this recipe is a little simpler and you only need the pulled pork. But feel free to add in whatever BBQ you have stored in your freezer.
Brunswick Stew Recipe
– 1 Whole Chicken (pulled) – 2lb. Pulled Pork – 32oz. Chicken Stock* – 28oz. Can Diced Tomatoes – 28oz. Can Tomato Puree – 1 Lg. Sweet Onion (chopped) – 6 Cloves Chopped Garlic – 1/2 Cup Worcestershire Sauce – 2 Sticks Butter – 1 16oz. Frozen Package Sweet Corn – 1 16oz. Frozen Package Butter Beans – 1 16oz. Frozen Package Diced Potatoes – 1 Bottle of Killer Hogs BBQ Sauce (or your fave BBQ sauce) – 2 T. Mustard – 2 T. Killer Hogs Rub (or your fave BBQ Rub) – 1 T. Kosher Salt – 1 T. Black Pepper – 1 t. Cayenne Pepper To start, I made my own chicken stock by boiling the whole chicken in a large stock pot. I placed the chicken in a stock pot, covered it with cool water and threw in 1 T. Kosher Salt, 1 T. Black Pepper, 2 Bay Leaves, 2 Course Chopped Carrots, 1 Quartered Onion and 3-4 split cloves or garlic.
I brought it to a boil and allowed it to simmer until the chicken was done. Then I removed the chicken and strained the liquid with a mesh strainer. Then I returned the stock to the stock pot and bought it to a boil for 20 minutes to reduce. Once the chicken stock was ready I poured it into a large container. You could buy cans of chicken stock and skip this step – but you can't beat the flavor a homemade stock gives soups and stews. While my stock was reducing, I pulled my chicken and got all my other ingredients ready. Now it was time to assemble the stew! In a large stockpot, I melted my 2 sticks of butter and added the chopped onions and chopped garlic. Sauté for 8 minutes.
Next I added the Worcestershire, Salt, Pepper, Rub and Cayenne and cooked for 6-8 minutes. Then I added my Pulled Pork, Pulled Chicken, Mustard and the bottle of Killer Hogs BBQ Sauce. I stirred it all together, made sure the meat was completely coated and let it cook for 5 minutes.
Next I added both cans of Tomato Puree and Diced Tomatoes. And also added 32oz of my reserved chicken stock. I brought it all to boil and allowed it to simmer for 1 hour.
At that point, it was time to add the Sweet Corn, Butter Beans and Diced Potatoes (NOTE: If you dice your own potatoes using raw potatoes, you will need to add them to the pot when you add chicken stock. They will need a longer time to get tender.) After I'd added all the veg, I continue to simmer for about 2 hours.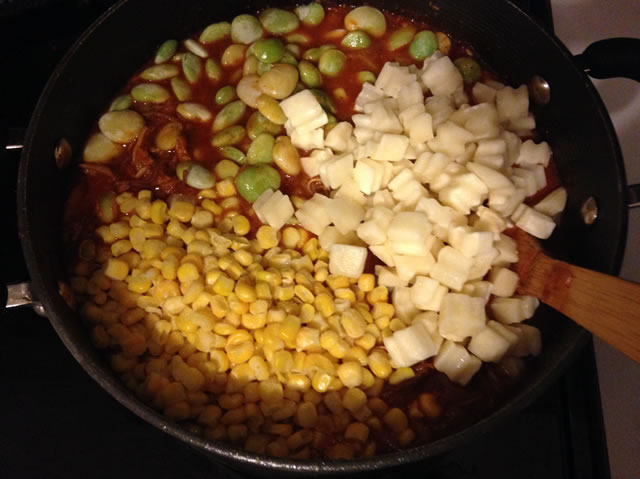 If needed, add extra chicken stock. But remember… this is a thick stew – not a soup. Once it's simmer on the stove for a while and gotten all delicious, it's time to eat. You can serve it however it makes you happy – but in my house we like to have some homemade cornbread on the side.
This recipe is going to make a lot. So invite some friends over and dig in!
Malcom Reed
Connect on
Facebook
Follow me on
Twitter
Subscribe to my
YouTube Channel
Find me on
Google+
Follow me on
Instagram

Have a Question About This Recipe?
Connect with us in our HowToBBQRight Facebook group for recipe help, to share your pictures, giveaways, and more!