Grilled Hamburgers Recipe
Super Bowl Sunday is almost here and most folks will be firing up the grill. Whether you're a Broncos or Panthers fan this weekend, I have two Grilled Hamburger recipes that you have to try. For these Grilled Hamburgers I start with 1lb of ground sirloin and 1lb of 80/20 ground chuck. The sirloin is lean and gives the burger a steak-like taste but you need the fat from the ground chuck to keep the burgers moist.
Mix the sirloin and chuck together and form into ½ lb patties. Use your hands and don't work the meat too much. Season each side with Salt, Black Pepper, & Granulated Garlic (my
AP seasoning
) then top with a little coarse ground steak seasoning . (I used my
Steak & Chop Rub
but Montreal or your favorite coarse ground seasoning will work here).
Fire up the grill to medium high heat about 400⁰F and place the burgers directly on the grate. For this cook I'm using a set of
GrillGrates (check these GrillGates out here >>)
. Grill the burgers for 6-7 minutes on each side then flip. Continue cooking the Grilled Hamburgers for another 6-7 minutes and resist the urge to mash or flatten the burgers. (this only pushes out moisture and flavor).
I like my Grilled Hamburgers medium on the inside which is 140-145 internal. There's not much pink at this stage but the burgers are nice and juicy. You can dress these Grilled Hamburgers however you choose but since it's Super Bowl Sunday I came up with a little something special for each team.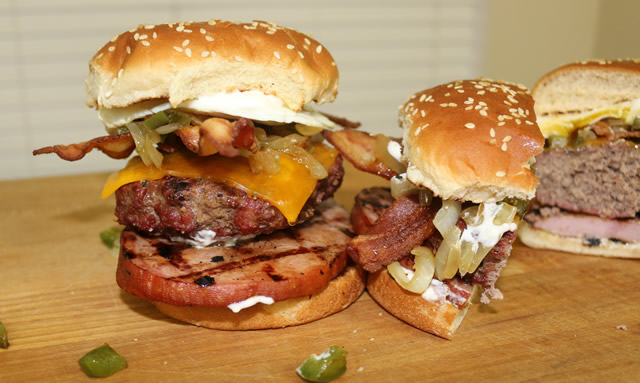 First up is my Denver Broncos Burger Recipe:
2 – 8oz Hamburger Patties
2 – 1/4" slices Sugar Cured Ham
4 – Strips Bacon
2 Slices Cheddar Cheese
½ Green Bell Pepper Diced
½ Sweet Onion Diced
2 – Fried Eggs
2 – Hamburger Buns
Green chili Mayo for dressing *recipe to follow
Cook the bacon according to directions until crispy. Sauté' the green pepper and onion in a small skillet using a couple teaspoons of bacon drippings. Grill the burgers as directed above and top with slice of cheddar cheese as soon as they're done. While the burgers are grilling fry the eggs in a little bacon grease over easy. Toast the buns cut side down on the grill 30 sec each.
To assemble the burger:
Spread Green Chili mayo on bottom bun, place burger patty on top. Lay 2 strips of bacon over burger and top with a heaping Tablespoon of green peppers and onions, then the fried egg. Spread a little green chili mayo on the top bun and enjoy.
Green Chili Mayo
(more than enough for 2 burgers)
– 1 cup mayo – 1 Tsp minced garlic – 3 Tbsp diced green chili – 1 Tbsp lime juice – 1 Tbsp hot sauce – 1 Tsp AP Rub Mix and allow to sit in fridge for at least 3 hours
For the Carolina Panther Burger Recipe:
2 – 8oz Hamburger Patties
1/2 lb – Carolina Style Pulled Pork (*recipe on blog)
4 – Strips Bacon (cooked crispy)
1 bag of Shredded Red Cabbage
2 – Hamburger Buns
Hot Sauce Mayo*recipe to follow
Vinegar Sauce*recipe to follow
Grill the burgers as per the directions above. Toast the buns on the grill 30 sec each.
To Assemble the Grilled Hamburgers:
Spread Hot Sauce mayo on the bottom of each bun. Place a burger patty on each and top with 2 bacon strips. Grab a handful of the pulled pork and mound on top. Drizzle the vinegar sauce over the pork and top with a little shredded cabbage. Dress with a little more vinegar sauce and the top bun. You can add extra hot sauce mayo is you like it spicy!
Hot Sauce Mayo
(more than enough for 2 burgers)
– 1 cup mayo – 4 Tbsp hot sauce – 1 Tsp lemon juice Mix and allow to sit in fridge for at least 3 hours
Carolina Vinegar Sauce
– 1 cup Cider Vinegar – 1 teaspoon Kosher Salt – 1 pinch Red Pepper Flakes Combine in a small sauce pan and heat until simmering. Pour into a jar and cool. Both these "Super Burgers" are guaranteed to score at your Super Bowl party. Give both these Grilled Hamburgers a try and let your guests decide which is better!
Malcom Reed
Connect on
Facebook
Follow me on
Twitter
Subscribe to my
YouTube Channel
Find me on
Google+
Follow me on
Instagram

Grilled Hamburgers on a Big Green Egg
Have a Question About This Recipe?
Connect with us in our HowToBBQRight Facebook group for recipe help, to share your pictures, giveaways, and more!