Grilled Ribeye Steak Recipe
This Grilled Ribeye Steak recipe is incredibly easy and doesn't require a lot of preparation. All you need is a couple well-marbled ribeyes, a hot grill, and bottle of your favorite wine and you're well on your way! When grilling any type of steak, you want to start with a quality cut of meat. For these Grilled Ribeye Steaks, I stopped by my local butcher and picked up a couple 20oz Certified Black Angus Choice Ribeyes. Look for ribeyes that have plenty of marbling because fat equals flavor.
About an hour before you plan to grill the steaks take them out of the refrigerator. Each steak gets seasoned on all sides with Salt, Black Pepper, and Granulated Garlic (I use my
AP rub
). Let the steaks rest turning about every 15 minutes. This gives the seasoning time to pull a little moisture out of the steak and allows the flavor to penetrate the meat. It also helps the Grilled Ribeye Steaks brown during cooking.
While the Grilled Ribeye Steaks are resting make the Red Wine Mushroom sauce and keep it warm for serving.
(**RECIPE BELOW)
About 30 minutes before grilling start 1 chimney of coals. I use briquette charcoal and a weber grill for this cook but you can use any grill set up for high heat grilling. You want the grill temperature to be 500 degrees. After 20 minutes the coals should be really hot. Spread them out in the bottom of the grill and open the vents 100%. Place the cooking rack in the grill and give it another 10 minutes to heat up. I also use a set of
GrillGrates (check these GrillGates out here >>)
. on top of the Weber rack when grilling steaks. Grill Grates help distribute the heat and prevent flare ups. Just before the Grilled Ribeye Steaks go on the fire season each side with a coarse steak seasoning. I use my
Steak Rub
, which is a combination of coarse sea salt, cracked black peppers, and herbs. You can use any steak seasoning you like here; Montreal Steak seasoning is a good substitute. As soon as the grill is up to temperature (500⁰) place each steak on the grate. Place the lid on and set a timer for 2 minutes. Give the steaks a 45⁰ twist after 2 minutes. Set the timer again and replace the lid. After 2 minutes it's time to flip the ribeyes and repeat the process.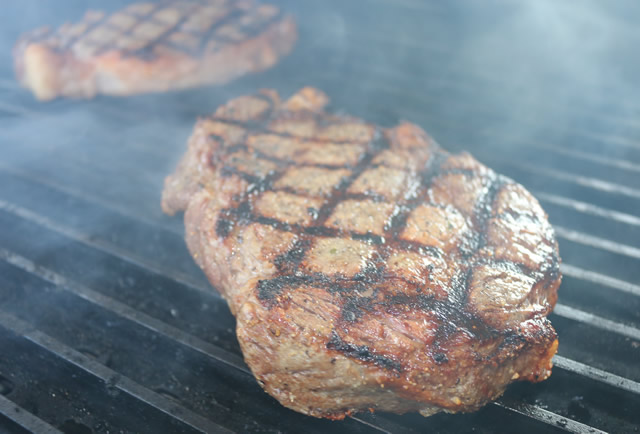 Once 8 total minutes is up, you'll have a perfectly grilled medium rare ribeye. Remove the Grilled Ribeye Steaks from the grill and allow them to rest for 5-7 minutes before serving.
If you like your steak more done leave it on the grill for additional time.
(2 additional minutes for medium and 4 for medium well. Anything longer is a waste of good meat!)
Serve these Grilled Ribeye Steaks with the Red Wine/Mushroom sauce over the top. Ribeyes go great with a simple salad and baked potato but you can serve them with your favorite side dish.
Grilled Ribeye Steak Red Wine Mushroom Sauce:
2 tbsp real butter
16oz sliced mushroom (baby bella)
3 cloves garlic minced
½ red onion diced
1 tbsp balsamic vinegar
½ cup red wine
½ cup beef broth
1 tbsp Worcestershire sauce
AP Rub (salt, pepper, & garlic blend) to taste
Melt 1 Tablespoon of Butter in a sauté pan. Add red onion and cook for 2 minutes until onion starts to soften. Add the garlic and mushrooms and continue cooking for 2-3 minutes. Season with a pinch of AP rub and reduce for 1 minute. Pour in the balsamic vinegar and red wine and reduce for 3 minutes. Add the Worcestershire and Beef Broth and reduce by ½ about 4-5 minutes. Turn off the heat and add the remaining tablespoon of butter to smooth out the sauce.
Malcom Reed
Connect on
Facebook
Follow me on
Twitter
Subscribe to my
YouTube Channel
Find me on
Google+
Follow me on
Instagram

Grilled Ribeye Steak on Weber Kettle
Have a Question About This Recipe?
Connect with us in our HowToBBQRight Facebook group for recipe help, to share your pictures, giveaways, and more!