Grilled London Broil Recipe
Recently I've had several questions asking how to cook a grilled London Broil. First let's start off with what a London Broil roast actually is. In supermarkets you'll see a 3-4lb roast labeled as London Broil. The name is really referring to the way it's prepared not a specific cut of beef. London Broil is typically a Top Round Roast or I've seen flank steak labeled this way. The standard preparation is to marinate the roast for several hours, brown the outside in a hot pan, and finish it off in the oven to a medium inside temperature. That's traditional London Broil. For my version of grilled London broil I start with a 3.5lb roast purchased from the supermarket. The first thing I do is tenderize it on all sides using a jaccard. This will help the marinade penetrate the meat, and it also tenderizes it.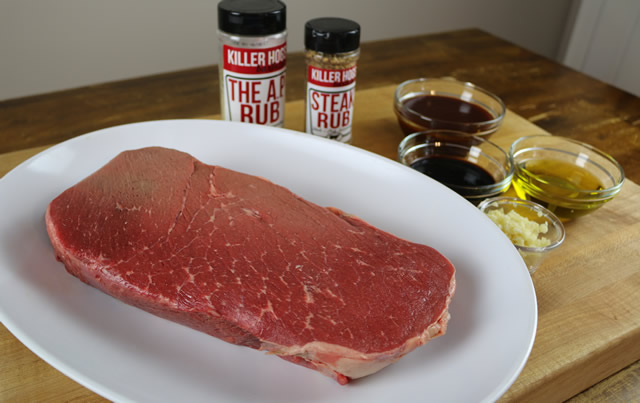 After I used the jaccard, season the London Broil really well on all sides with my
Killer Hogs The AP Rub
. Then mix up the marinade and add to a XXL ziptop bag with the London Broil.
London Broil BBQ Marinade
– 8 oz
Killer Hogs The BBQ Sauce
(you can use favorite bbq sauce)
– 4 oz balsamic vinegar – 4 oz olive oil – 3 gloves chopped garlic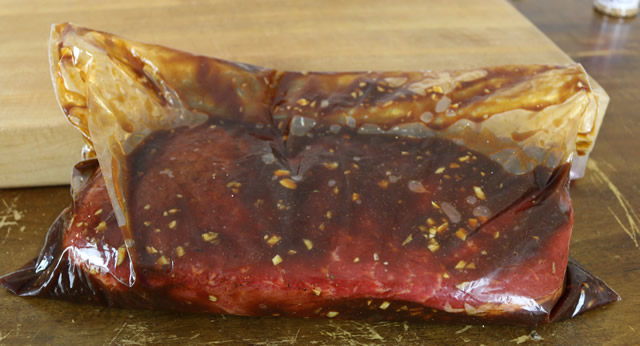 After the London Broil has marinated for at least 4 hours (doesn't hurt to go overnight), take it out of the marinade. Before it goes on the grill it needs a little more seasoning. I like to use a course ground seasoning to create a nice crust – my
Killer Hogs Steak & Chop Rub
is perfect for this. Season the London Broil on all sides and allow to come up to room temp while you prepare your grill.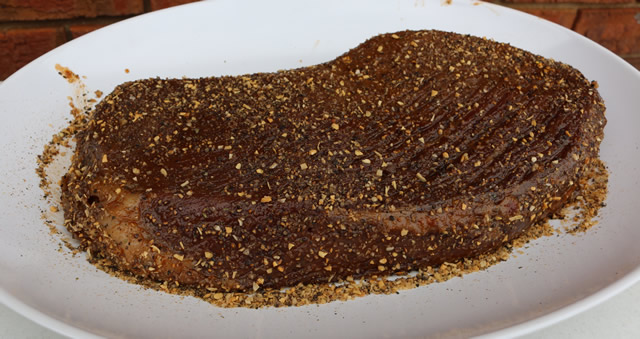 For this cook, I'm using a reverse sear. You can use any grill you want, just set it up for a 2-zone fire – with one cool side and one hot side. I start my Big Green Egg cooking at around 250 – adding a couple pieces of hickory and pecan woods to give a good smoke flavor.
Place the London Broil on the grill (cool side if you're doing the 2 zone method) and monitor the internal temps. You want to pull the meat when it hits 110 internal. This is the first step in the reverse sear method. Once the grilled London Broil hits 110 internal, it's time to sear it. You'll need to take the roast off the grill and carefully remove the cooking grate and deflector shield. Be sure to wear hand protection here! Let the Egg come up to 500 degrees for high heat cooking – takes about 5 minutes. If you're doing a 2 zone fire, you can just move the London Broil to the direct grilling side. Just make sure the coals are really hot. To sear, place the grilled London Broil back on the grate and cook it for 6 minutes each side – giving it a 45 degree rotation halfway through on each side to create some really cool grill marks. You'll notice the
GrillGrates (check these GrillGates out here >>)
. I'm using on the egg. If you don't have a set of these, you're missing out. They really give the meat that restaurant-grilled look.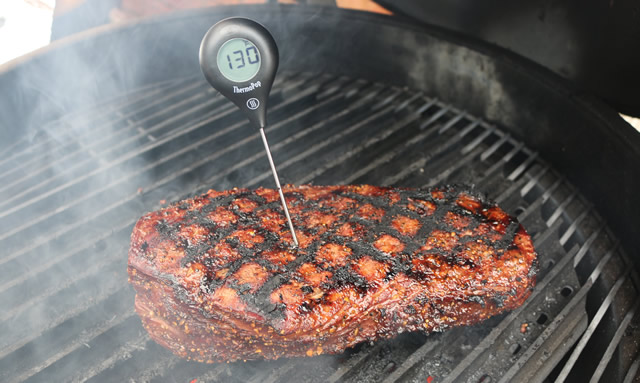 When the London Broil hits around 130-135 internal it's time to get it off. This is where I highly suggest having a good internal thermometer – like the ThermoPop. They are really accurate and a must-have for grilling.
You can check the ThermoPop out here >>
Now it's time to let it rest for about 15 minutes. Then slice against the grain – and I like to hold the knife at a slight angle to give slightly taller slices. Grilled London Broil is great served with mashed potatoes and a little brown gravy or it even makes great sliders!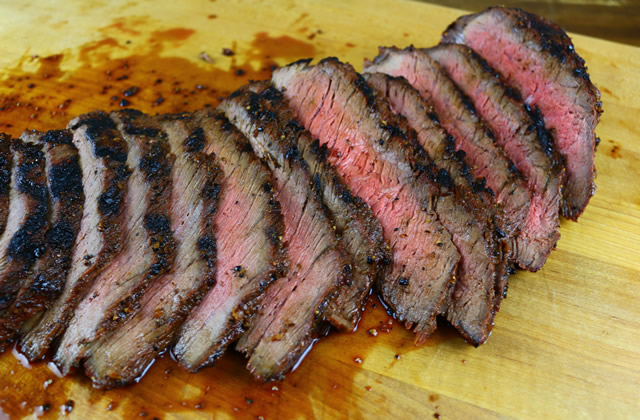 Print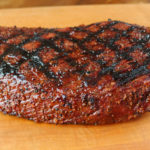 Grilled London Broil Recipe
---
3.5

lb London Broil

4 oz

balsamic vinegar

4 oz

olive oil

3

gloves chopped garlic
---
Instructions
Tenderize the London Broil it on all sides using a jaccard – and season the London Broil really well on all sides with Killer Hogs The AP Rub.
Mix the BBQ Sauce, vinegar, olive oil and garlic and pour into an XXL Ziplock bag. Place London Broil in bag and make sure marinade is fully covered. Place in fridge for at least 4 hours.
Remove London Broil from bag, allow excess marinade to drip off and season all sides with Killer Hogs Steak & Chop Rub. Allow London Broil to come up to room temp while you prepare your grill.
Set your grill up for a 2-zone fire – with one cool side and one hot side. Heat grill to 250 degrees and add a few chunks of hickory and pecan to fire.
Place London Broil on grill and allow it to cook until it reaches 110 internal.
Remove London Broil from grill and increase the temp to 500.
Once the grill is up to temp, place London Broil directly on grate at a 45 degree angle for 3 minutes.
After 3 minutes, rotate London Broil 45 degrees.
After another 3 minutes, flip London Broil over moving to a new section of the grate.
After another 3 minutes rotate the London Broil 45 degrees and check the internal temp.
Remove the London Broil when it hits 130 -135 internal and allow it to rest for 10 – 15 minutes.
Slice London Broil against the grain at a slight angle and enjoy!
Malcom Reed
Connect on
Facebook
Follow me on
Twitter
Subscribe to my
YouTube Channel
Find me on
Google+
Follow me on
Instagram

grilled london broil
Have a Question About This Recipe?
Connect with us in our HowToBBQRight Facebook group for recipe help, to share your pictures, giveaways, and more!