Lamb Shoulder Chops Recipe
With this recipe I smoke, grill and braise Lamb Shoulder Chops until they are fork tender and serve them with mashed potatoes and grill carrots. Lamb is an excellent protein to prepare on the grill. It has a rich flavor with a slight hint of sweetness from the pastures it grazes. Typically lamb is butchered into 3 primals: The forequarter (shoulder, neck and front legs,) hindquarter (back legs and hip area), and the loin (rib section).
For this recipe I'm using the shoulder cut into 1" thick chops. The shoulder has more connective tissue, so it needs time to break down which makes it perfect for a longer cook on the grill. Lamb pairs well with fresh herbs and smoke; I use a simple rub of fresh rosemary, minced garlic, Kosher salt, coarse ground black pepper, and fresh lemon zest to season the outside. Drizzle the outside of the chops with olive oil and apply a good coat of the seasonings to both sides.
The cooking process is two steps. First brown the outside to develop flavor and then cook with a braising liquid to tenderize. Any grill can be used to cook this recipe just set it up for indirect cooking at 325 degrees. I'm cooking on my Memphis Wood Fire Grill running cherry pellets for flavor. The cherry wood produces a sweet smoke that goes great with lamb.
First the Chops go directly on the cooking grate for about 30 minutes. While the color is developing on the outside, place a dutch oven or roasting pan on the grill (you could do this step on the stove top).
Add a little olive oil and butter to the dutch oven and sweat down onion just until it begins to brown. Throw in some minced garlic and more fresh rosemary and cook for just a couple minutes then add the liquids: red wine, beef broth, and chicken stock (about a cup each). Bring the liquid to a simmer and reduce to concentrate the flavor.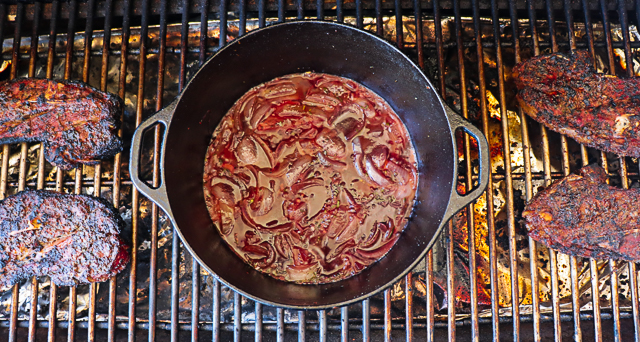 Once the chops are browned on both sides move them to the braising liquid and cover with a lid. Continue to cook at 325 degrees for 2 1/2 hours or until the meat shreds easily with a fork. I like to serve it family style on a big platter of mashed potatoes with roasted carrots.
Yukon Gold Homestyle Mashed Potatoes
– 3 lb Yukon Gold Potatoes – 1 cup heavy cream – 8 Tablespoons butter – ½ cup sour cream – 1 teaspoon salt – ½ teaspoon black pepper Fill large pot ½ full with warm water, season with salt and bring to boil. Cut potatoes into 1-inch cubes and boil until tender – about 10 to 12 minutes. Drain potatoes and mash using a potato masher or mixer. Add remaining ingredients and whisk to combine. Taste for seasoning and serve hot.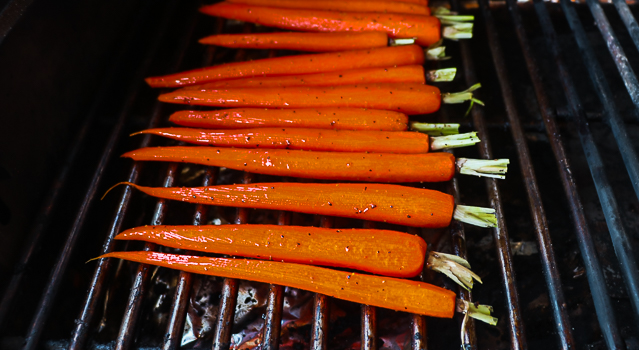 You can cook the carrots right on the grill as well. Wash and peel whole carrots, drizzle with olive oil and season with simple Salt and Pepper. They'll need about 30 minutes to cook.
Arrange the pieces of tender, juicy lamb over the potatoes and drizzle with a little of the braising liquid. Place the carrots on the side and garnish with chopped parsley. This lamb will absolutely melt in your mouth. The rich flavors from fresh herbs and wine create a truly special dish.
Print
Lamb Shoulder Chops Recipe
---
4

Lamb Shoulder Chops 1" thick

2 Tablespoons

Kosher Salt

2 Tablespoons

Corse Ground Black Pepper

2 Tablespoons

Fresh Rosemary chopped fine

1 Tablespoon

Lemon Zest

4

Cloves Garlic minced

1/4 cup

Olive Oil
Braising Liquid:
1

Onion cut into strips

4

Cloves Garlic minced

2 Tablespoons

Butter

1 Tablespoon

Olive Oil

1 Tablespoon

Fresh Rosemary chopped fine

1 Cup

Red Wine

1 Cup

Beef Broth

1 Cup

Chicken Broth
---
Instructions
Drizzle Lamb Shoulder Chops with Olive Oil. Combine Kosher Salt, Black Pepper, Rosemary, Garlic, and Lemon Zest in a small Bowl. season each chop on both sides.
Prepare wood fired pellet grill or other similar grill for indirect cooking at 325 degrees using cherry wood pellets or chunks for smoke flavor.
Place lamb on grill surface and cook for 1 hour flipping after 30 minutes to brown both sides.
In a dutch oven or roasting pan add olive oil and butter. Cut the onion into strips and brown in the dutch oven for 5-7 minutes. Add garlic, rosemary and cook an additional 2-3 minutes. Pour in Red Wine, Beef Broth, & Chicken Broth and bring to a simmer. Reduce the liquid and place each chop in the dutch oven once browned. Cover and cook for 2 1/2 hours or until fork tender.
Serve family style over mashed potatoes or rice.
Malcom Reed
Connect on
Facebook
Follow me on
Twitter
Subscribe to my
YouTube Channel
Follow me on
Instagram

Have a Question About This Recipe?
Connect with us in our HowToBBQRight Facebook group for recipe help, to share your pictures, giveaways, and more!