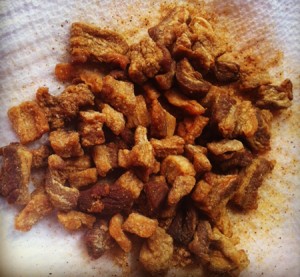 The next time you're trimming a pork butt or whole shoulder instead of throwing away the fat cap give this a try… Remove the top layer of fat in one large piece about ¼" thick. Cut the fat cap into ¼" strips, and then cut the strips into ½" pieces. The pieces will look like small rectangles. Place a stock pot on the stove over Med. Low heat, place the pieces into the pot. Render the pork fat stirring occasionally. The fat will turn into liquid and the cracklins will start to brown. The whole process takes about a 30 minutes; just be sure to not let the pot get hot enough to burn. When the craklins stop cooking they're done. Carefully remove them from the rendered lard and drain on a paper towel. You can dust them with your favorite seasoning. I use The BBQ Rub. to give them a BBQ flavor, but experiment with different combinations to come up with your own profile. I've used Lawry's seasoned salt, garlic, cayenne, or even jerk seasoning.
Malcom Reed
Connect on
Facebook
Follow me on
Twitter
Subscribe to my
YouTube Channel
Find me on
Google+
Follow me on
Instagram

Have a Question About This Recipe?
Connect with us in our HowToBBQRight Facebook group for recipe help, to share your pictures, giveaways, and more!