Spicy Thai Grilled Wings Recipe
It's hard not to love a good chicken wing, and today I have a recipe for my Spicy Thai Grilled Wings I want to share with you. This grilled wing recipe starts off with a dozen whole wings. You can substitute "party" wings if you want, but I prefer the whole wing because it seems to stay juicier and has a little more flavor. (Plus that flapper is good for a little extra gnawing).
Instead of a typical fried wing, I'm firing up the Big Green Egg today and grilling these dudes. Fried wings are great when you're out a bar, but if I'm at the house I'm going grilled all day. You can't beat that extra smoked flavor the grill gives a grilled wing. First season each of the wings with a good dose of
Killer Hog's The AP Rub
.
Let the wings hang out for a few minutes while the grill comes up to temperature. On my Egg I'm shooting for 325 degrees over direct heat. I use Lump charcoal for a fuel source, and just before the grilled wings go on, throw on a couple chunks of your favorite wood. (I'm using hickory today). Arrange the wings on the cooking grate and close the lid. They'll need about 5-10 minutes before you have to put an eye on them; so it's a good time to work on the Sweet Thai Chili Sauce I'm using for a glaze.
Sweet Thai Chili Sauce for Grilled Wings:
½ cup Honey
½ cup Sweet Chili Sauce
¼ cup Soy Sauce
1/8 cup Water
4 Garlic Cloves minced
1 Tablespoon Sriracha Sauce (more if you like it hot)
Juice of Lime
1 teaspoon corn starch
2 teaspoon cold water
Combine the Honey, Chili Sauce, Soy, Water, Lime Juice, Garlic, and Sriracha sauce in a sauce pot. Bring to a simmer over medium high heat stirring often. In a separate bowl whisk the corn starch and cold water and add to the sauce mixture. Bring to a boil and remove from heat.
Flip each wing after 5-10 minutes and continue cooking. The goal here is to keep them moving so they don't get too dark. Brown is exactly what you're looking for on the outside. After 25-30 minutes of turning the wings, they should all be about the same color. Dip each one in the sauce (be sure to reserve about ¼ cup of sauce for drizzling at the end).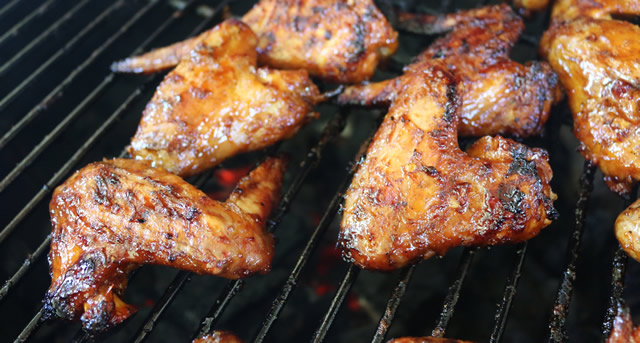 Continue cooking the grilled wings for 5 more minutes on each side and then check for doneness. Easiest way to tell if a chicken wing is done is pull it apart. If you get a lot of resistance, chances are it's not ready. The wing sections should come apart easy and you should see clear liquid (no trace of pink). You can stick the grilled wings with a
Thermapen
if you like; internal temperature should be 165 minimum for proper food safety. Once the grilled wings are done, remove from the grill and garnish with an extra drizzle of Sweet Thai Chili Sauce and a few good pinches of cilantro and green onion.
I love the Spicy, Sticky, Sweet flavor these wings have and the smokiness from the grill just sets them off. Give this recipe a try the next time you want to cook up a batch of chicken wings. You won't be disappointed!
Print
Spicy Thai Grilled Wings Recipe
---
12

whole chicken wings

¼ cup

Killer Hogs AP Seasoning

½ cup

Honey

½ cup

Sweet Chili Sauce

¼ cup

Soy Sauce

1/8 cup

Water

4

Garlic Cloves minced

1 Tablespoon

Sriracha Sauce (more if you like it hot)
Juice of Lime

1 Tablespoon

Fresh Cilantro chopped

1 Tablespoon

Green Onion chopped

1 teaspoon

corn starch

2 teaspoon

cold water
---
Instructions
Prepare Big Green Egg or other grill for direct heat cooking, medium-high temperature of 325⁰ using Lump charcoal.
Season each wing with Killer Hogs AP rub on both sides
Place 2 chunks of Hickory wood over hot coals for smoke flavor.
Arrange wings on cooking grate directly over hot coals. Adjust the grill vents so that temperature remains constant at 325⁰.
Check the wings every 5-10 minutes to avoid burning. Flip as needed.
In a small sauce pan add Honey, Sweet Chili Sauce, Soy Sauce, water, lime juice, garlic, and Sriracha sauce.
Heat over medium-high heat just until simmering.
In a separate small dish combine corn starch and water. Add to sauce mixture and bring to boil. Remove from heat and cool. (reserve ¼ cup of sauce for garnish)
After wings have cooked for 25-30 minutes, dunk each wing in the sauce and return to grill.
Grill an additional 5 minutes on each side and remove from heat.
Serve the wings with a drizzle of extra sauce and Fresh cilantro and Green Onion.
Malcom Reed
Connect on
Facebook
Follow me on
Twitter
Subscribe to my
YouTube Channel
Find me on
Google+
Follow me on
Instagram

Grilled Wings
Have a Question About This Recipe?
Connect with us in our HowToBBQRight Facebook group for recipe help, to share your pictures, giveaways, and more!