Smoked Crab Legs Recipe
When it comes to seafood, there's no better eating than a big pile of steaming hot smoked crab legs. You see snow crab legs on the menu at seafood restaurants sold at Market Price or there's always the casino buffets on the weekends; but until you've had them on the smoker you're missing out. Smoked Crab Legs takes this delicacy to completely new level and its way easier than you might think. I start with 10lbs of frozen snow crab legs from my local seafood department. They usually come in a box and these legs have been fully cooked prior to freezing, so all we're really doing is reheating them in a smoky environment.
Restaurants get these snow crab legs the exact same way and either steam or boil them back to life. The smoker does it too, but you pick up a slight grill flavor and the sweet cherry smoke adds just the right amount of flavor, perfect for delicate crab meat. You first want to let the legs thaw in the refrigerator overnight. The next day I rinse the legs individually under cool water and place them on a platter to drain slightly. Go ahead and fire up your smoker. I'm cooking these legs on my Ole Hickory MM running at 250⁰ with just 1 chunk of cherry from
Grillewood.com
for smoke. Crab legs only need light smoke and cherry works great here. You can use any smoker for this application just run your pit steady at 250⁰. Now it's time to make the BBQ Butter. Melt 1lb of real butter in a small sauce pot and mix in 2 Tablespoons of a good BBQ Rub (I used my
Killer Hog's The BBQ Rub.
) and ½ teaspoon of Louisiana Crab/Shrimp boil seasoning. This stuff really packs the flavor so it doesn't take much. Then add a little dried Parsley and the juice from 1 lemon to the butter.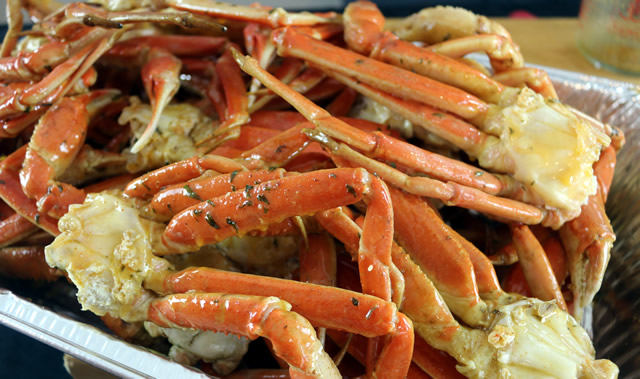 Place the BBQ Butter in a small pan and dredge each crab cluster through it. Once the pit is up to temp, place the legs on the cooking grate and smoke for ½ hour or until they're steaming hot. Every ten minutes they get basted with the remaining butter mixture for a little extra flavor.
After 30 minutes at 250⁰, these smoked crab legs should be done. Remember they're fully cooked so you don't want to overdo it here. The smoked crab meat should be steaming hot and release from the shell with ease. Pile the legs up on a large platter and serve them immediately with plenty of clarified butter, cocktail sauce, and fresh lemon.
Smoked Crab Legs prepared this way are incredible. The meat is slightly sweet with a hint of smoke and grill flavor. The butter and seasonings add so much flavor that you can't stop eating them! I promise you'll never look at crab legs the same way once you try them on the smoker!
Print
Smoked Crab Legs Recipe
---
10

lbs Snow Crab Legs

1

lb Real Butter

2 Tablespoons

Killer Hogs The BBQ Rub

1 Tablespoon

Dried Parsley

½ teaspoon

Crab/Shrimp Boil seasoning
Juice from

1

lemon
For Serving
drawn butter
lemon slices
cocktail sauce
---
Instructions
Prepare Charcoal Smoker for indirect cooking at 250⁰. Add 1 chunk of seasoned cherry wood for smoke.
Melt butter in a small saucepan over low heat.
Add BBQ Rub, Crab/Shrimp boil seasoning, parsley, and lemon juice; stir to combine.
Place the Butter mixture in a half size aluminum steam pan and dredge each crab leg cluster in the butter. Reserve the remaining butter mixture for basting.
Arrange crab clusters on cooking grate and smoke for ½ hour. Basting every ten minutes with reserved butter mixture.
Remove the crab legs from the smoker after 30 minutes of smoking. Legs should be steaming hot at this point.
Serve immediately with drawn butter, cocktail sauce, and extra lemon wedges.
Malcom Reed
Connect on
Facebook
Follow me on
Twitter
Subscribe to my
YouTube Channel
Find me on
Google+
Follow me on
Instagram

Smoked Crab Legs
Have a Question About This Recipe?
Connect with us in our HowToBBQRight Facebook group for recipe help, to share your pictures, giveaways, and more!