Mojo Beef Ribs Recipe
This past weekend one of my good buddies became the 2019 Memphis in May Rib Grand Champion… RIB CHAMPS OF THE WORLD!!!! Big congrats to
Jay & Jamie Durbin from Tennessee Mojo
and their entire Nuts n' Butts team.
I had already decided to smoke Beef Ribs for my recipe this week, but after Jay's win I had to use his new Beef Rub and do Mojo Beef Ribs in his honor. These prime beef plate ribs came from
The Butcher Shoppe in Pensacola, FL
, so I didn't have too much problem sourcing them. They are typically found cut into smaller portions and sold as beef short ribs – but if you explain to your butcher that you want the beef ribs before they cut them into short ribs you should be able to find what you need.
When it comes to prepping these ribs I didn't do too much – just trimmed down the thick fat to ¼ inch and removed any sinew. Trimming took less than 5 minutes. And for the seasonings I started with
Killer Hogs AP Seasoning
for a base layer – but you can just use a light coat of salt, pepper and garlic. Then came the
Tennessee Mojo Beef
– I gave these beef ribs a generous shake of Jay's Beef Rub which has a peppery, smoky flavor. And you can't beat the color for a beef rub either. And just to add a little pop and some texture I gave the tops of these beef ribs a hit of
Killer Hogs Steak Rub
.
After the ribs were seasoned, I let them hang out while I fired up the pit. I decided to use my Ole Hickory CTO – but you can use any smoker. It's all about holding the temps steady around 250. I added a couple chunks of hickory and a little pecan wood from
Smokerwood.com
to get that true Tennessee smoke flavor.
Once the pit was up to temp, I added the seasoned beef plate ribs and just let them cook for 1.5 hours. At that time I used a Mojo Mop to add a little moisture and help that good, mahogany bark to form. I used my
BOS Big Orange Sprayer to spritz
.
Mojo Mop Recipe:
– 32oz Beef Broth – 2 Tablespoons Dill Pickle Juice – 2 Tablespoons Soy Sauce – 2 Tablespoons Worcestershire Sauce Combine everything and pour into a spray bottle.
I spritzed the ribs every 60 minutes. And about the 3.5 hour mark the bark was formed and was as dark as I wanted it to get, so it was ready to wrap. I used
butcher paper
to wrap the ribs and placed them right back on the smoker – making sure to keep them meat side up.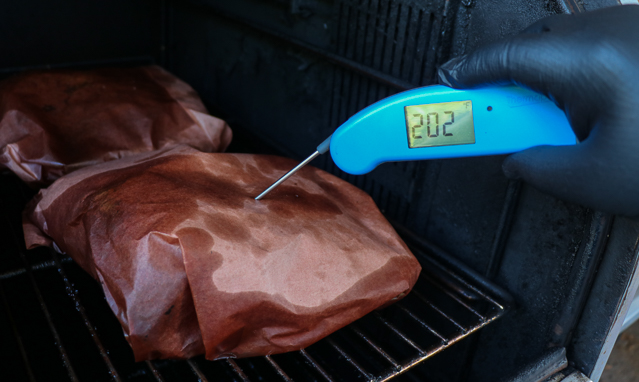 At this point, it's all about watching the internal temps. Using my
Blue Thermoworks Thermapen
, I was shooting for 200-204 range – but more than anything I wanted to ribs to have the right feel. When it feels like I'm probing warm butter, the Beef Ribs are ready!
I used a little party stacker cooler and went straight from the pit to the holding box. Then I shut the lid and let the ribs rest for about an hour. Every 15 minutes you want to open the cooler to let the steam out. The idea is to rest the meat not continue to cook it.
Then at that point I'd had just about all I could take… it was time to slice these Mojo Beef Ribs into monster size, single bone sections and most importantly dive right in… Man style. These ribs are rich and juicy. The Mojo Rub and Mojo Mop combine creating a tasty bark on the outside full of spice and flavor.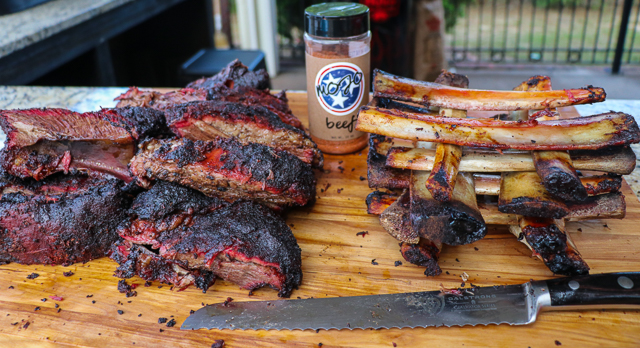 The hickory and pecan wood give them authentic bbq flavor; and if you don't watch it, you'll hurt yourself eating these ribs. One bone is almost too much for ordinary folk! Give it a try the next time you fire up the grill and give ole Jay (IG:
@tennessee_mojo_bbq
) a shout congratulating him on the big win at Memphis In May!
Print
Mojo Beef Ribs Recipe
---
3

–

4

slabs Beef Plate Ribs

1/4 cup

Killer Hogs AP Rub

1/4 cup

Tennessee Mojo Beef Rub

2 Tablespoons

Killer Hogs Steak Rub

32oz

Beef Broth

2 Tablespoons

Dill Pickle Juice

2 Tablespoons

Soy Sauce

2 Tablespoons

Worcestershire sauce
---
Instructions
Trim excess fat and sinew from the top of each slab of Beef Ribs
Season the outside of each rack with a layer of AP Rub, Mojo Beef Rub, and Killer Hogs Steak Rub (you can substitute your favorite seasonings)
Prepare smoker for indirect cooking at 250 degrees. When smoker reaches optimal temperature, place chunks of hickory and pecan wood directly on hot coals for smoke flavor.
Place each slab of ribs on the cooking grate and smoke for 1 1/2 hours.
Combine the beef broth, pickle juice, soy, and Worcestershire sauce in a squirt bottle and spritz the ribs.
Continue to spritz the ribs every 60 minutes until internal temperature reaches 175-180 degrees. At this point wrap the ribs in butcher paper and return to the smoker. Continue to cook until internal temperature reaches 202 degrees and the meat thermometer slides in with almost no resistance.
Rest the ribs in a dry cooler for 1 hour and cut into individual bone sections for serving.
Malcom Reed
Connect on
Facebook
Follow me on
Twitter
Subscribe to my
YouTube Channel
Follow me on
Instagram

Mojo Beef Ribs
Have a Question About This Recipe?
Connect with us in our HowToBBQRight Facebook group for recipe help, to share your pictures, giveaways, and more!