Bonafide Ribeye Sandwich Recipe
Just when you think a ribeye steak couldn't get any better….I'm going to turn you on to the "Ribeye Sandwich". But this just isn't any old, ordinary steak sandwich… I use choice ribeye steaks grilled to perfection; top them with sautéed sweet onion, baby portobello mushrooms, and melty provolone cheese – all served on Texas garlic toast with a roasted garlic mayo.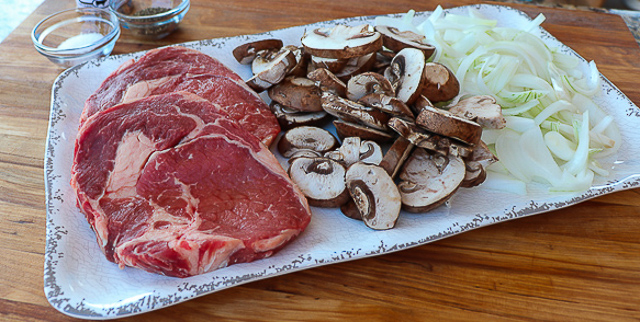 For the ribeyes I use an 8-10oz choice grade steak. It gets tenderized (for this I used an
onion slicer
but you can use a jacquard) since we're leaving it whole on the sandwich; and it's meant to be picked up and eaten – not cut with a knife and fork (but you fancy folk could use utensils is you like). The steaks are seasoned with salt and pepper and then drizzled with Worcestershire and Balsamic Vinegar. Rest them on the counter until ready to cook (about 45 minutes).
For this cook I fired up my Weber Kettle for this cook using a chimney of Royal Oak briquettes for fuel. Once the coals are hot, dump them on one side of the grill and place an aluminum pan on the cool side to create a 2 zone fire. I also used a set of
Grill Grates
for those steakhouse grill marks.
As soon as the grill heats up, place a
cast iron skillet
 on the hot side and add 1 Tablespoon of Olive Oil and 1 Tablespoon of Butter. Toss in the veg and season with a good pinch of Salt and Black Pepper – along with a few good dashes of Worcestershire. The vegetables will take about 10 minutes to brown and softened. When done, move the skillet over to the cool side.
Now it's time for the steaks. Season the steaks with
Killer Hogs Steak Rub
  on both sides and place on the hot side of the grill. Cook for 2 minutes – rotating half way if you want to create grill marks. Flip the steak over with a
Grill Grates tool
 and repeat.
Next place the steaks on a
flat iron skillet
and top with the onions and mushrooms. Lay a couple slices of provolone cheese over the top and let the cheese melt for about 30 seconds.
Once the provolone melts, remove the skillet from the grill and let's build a sandwich!
For the bread I'm going with thick cut Texas Garlic Toast. Then slather each slice with Roasted Garlic Mayo and place the Steak on the toast. Add the other slice of bread to the top and you have a Bonafide Ribeye Sandwich!
Print
Bonafide Ribeye Sandwich Recipe
---
2

Ribeye Steaks (8-1

0oz

each)

1

sweet onion (sliced thin)

8oz

Baby Portobello Mushrooms (sliced)

4

slices Provolone Cheese

1/4 cup

Worcestershire Sauce

1 Tablespoon

Balsamic Vinegar

1 Tablespoon

Killer Hogs Steak Rub
Kosher Salt & Black Pepper
Texas Garlic Toast* (recipe below)
Roasted Garlic Mayo* (recipe below)
Texas Garlic Toast
4

slices thick cut Texas Toast

1/2

stick Butter

1 teaspoon

Dried Parsley

1/2 teaspoon

Garlic Powder
Preheat oven to broil setting. Place butter, parsley, and garlic in a small bowl and heat in microwave for 30 seconds. Stir to combine and brush on top side of each piece of toast. Place the toast in the oven for 1-2 minutes or until brown.
Roasted Garlic Mayo
1

head of roasted garlic (about

10

cloves)

1 cup

Mayonnaise

1 teaspoon

Cracked Black Pepper

1 teaspoon

Killer Hogs Hot Sauce
Place the roasted garlic cloves in a small bowl. Mash with a fork until a paste. Add the remaining ingredients and stir well to combine. Store in the refrigerator until ready to serve.
---
Instructions
Fire up charcoal grill for 2 zone grilling
Tenderize steaks, season with Salt & Black Pepper, Drizzle with Balsamic Vinegar and Worcestershire Sauce.
Place cast iron skillet on hot zone of grill grate. Add 1 TBS each Olive Oil and Butter.
Add onions and mushrooms to skillet, season with salt and black pepper; drizzle with Worcestershire Sauce. Cook for 10 minutes until brown and tender.
Season each steak with Killer Hogs Steak Rub and place on the hot zone of the grill.
Cook for 2 minutes each side or until rare – medium rare.
Top each steak with onions and mushrooms; layer on 2 slices of provolone cheese; and let melt on the grill for 30 seconds.
Slather each piece of Texas Garlic Toast* with Roasted Garlic Mayo*; Place steak on toast and top with the other slice.
Malcom Reed
Connect on
Facebook
Follow me on
Twitter
Subscribe to my
YouTube Channel
Follow me on
Instagram

Have a Question About This Recipe?
Connect with us in our HowToBBQRight Facebook group for recipe help, to share your pictures, giveaways, and more!