Beef Cheek Tacos Recipe
Last summer I had the opportunity to teach a weekend class with
Matt Pittman at his Meat Church
headquarters. We had a great group of students and they were treated to a first class experience. Matt brought everything he knew about Texas Style Brisket and Beef Ribs and I showed everyone how to cook Memphis Style BBQ – whole pork shoulder and baby back ribs. Matt always takes care of his students and that means you're going to eat some "Killer" bbq. What got my full attention was the Beef Cheek Tacos he served for breakfast. Matt describes this awesome creation as a traditional Mexican breakfast delicacy and it did not disappoint! The beef cheek is incredibly tender and full of flavor. It's marbled with fat and has a richness like no other cut of beef. He gave me the run down on how to prepare them, and I had to try it for myself back at the house.
I found Beef Cheeks at my local Sams Club. They were sold in a 6lb cryovac package for about $20. First off, you absolutely need to trim them. Beef Cheeks are surrounded by thick fat and sinew, and it will not render during cooking. Take the time to get rid of all of this, and what's left is intensely marbled pieces of meat that will remind you of really good brisket point or short rib.
For the seasoning I used a combo of
Grande Gringo
and my
Killer Hogs Hot Rub
. Season the outside liberally and get them in some smoke. I ran my Gateway Drum at 275 with pecan wood chunks for flavor.
After 2 hours the cheeks had a nice bark; at this point it's time to really break them down.
Place all the cheeks in a large aluminum pan and toss in some thinly sliced onion and garlic cloves. Add beef broth to the pan for moisture and a good dose of your favorite Mexican hot sauce. You can add anything you like to the braising liquid but I just kept it simple.
Cover the pan with aluminum foil and place it back in the pit. I did use a wired probe thermometer to monitor the internal temperature. You want to cook these until they're falling apart so it's about 210 internal. Just stick the probe into one of the larger pieces of beef cheek before covering with foil.
Remove the pan from the pit and vent the steam. Rest the cheeks for 30 minutes then shred by hand. I highly recommend using
nitrile gloves
with a pair of
cotton liners underneath
. It will still be pretty hot.
I explain my glove setup here >>
To build the tacos I warmed corn tortillas and finely chopped white onion and cilantro.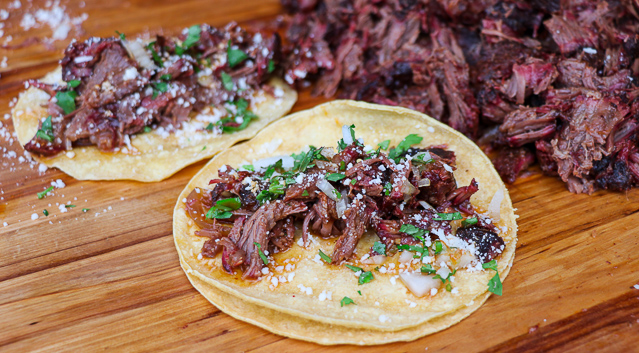 Each tortilla gets a pile of cheek meat, onion, cilantro, grated cotija cheese, and a drizzle of the braising liquid. These tacos are simple and that's the beauty of it. The beef cheek meat is tender, juicy, and super rich in flavor. I guarantee you will love them!!
Print
Beef Cheek Tacos Recipe
---
6

lbs Beef Cheeks (trimmed)

1/4 cup

Grande Gringo Mexican Seasoning

2

TBS Killer Hogs Hot Rub

1

Onion (thinly sliced)

10

Cloves Garlic (peeled)

3 cups

Beef Stock

1/4 cup

Mexican Style Hot Sauce
For the tacos:
1

dozen Corn Tortilla Shells

1

small White Onion (finely chopped)

1

bunch Cilantro (chopped)

1/2 cup

Grated Cotija Cheese
---
Instructions
Prepare Drum smoker for indirect cooking at 275 degrees. Add Pecan wood chunks to hot coals for smoke flavor.
Season trimmed beef cheeks with Malcom's Grande Gringo seasoning and Killer Hogs Hot Rub
Place Beef Cheeks on pit and smoke for 2 hours.
Remove beef cheeks from out and place in aluminum pan. Add onion, garlic, beef broth, and hot sauce.
Insert wired probe thermometer into one of beef cheeks; cover pan with aluminum foil; return to pit until internal temperature reaches 210 degrees.
Rest the beef cheeks for at least 30 minutes and shred by hand. Drizzle with liquid from pan for moisture as needed.
To build tacos: warm corn tortillas on grill or stove top. Place shredded beef cheek on tortilla and top with finely chopped onion, cilantro, and cotija cheese. Dress with a drizzle of braising liquid and serve.
Malcom Reed
Connect on
Facebook
Follow me on
Twitter
Subscribe to my
YouTube Channel
Follow me on
Instagram

Have a Question About This Recipe?
Connect with us in our HowToBBQRight Facebook group for recipe help, to share your pictures, giveaways, and more!