Game Day Chili Dogs Recipe
Whether you're at the stadium or getting together at the house for the game; these smoked chili dogs are always a crowd pleaser.
This recipe is really easy and most of the work is done the day before, so you won't miss a minute of the action. The first step is to make a batch of thick, meaty chili.
This chili is more of a meat sauce than a typical bowl of red.
It's simmered down to a thick consistency, so it keeps the bread from turning soggy. Cooking it the day before gives the flavors time to meld together and it warming back up the next day gives it time to absorb some smoke flavor.
I start with finely minced onion and garlic sautéed for 2-3 minutes until tender, then I add 1lb of Certified Angus Brand 80/20 ground beef.
Brown the beef and strain off the fat then throw in the seasonings. You can use any chili seasoning you like and I also add a little
AP Seasoning
and
Grande Gringo
.
A little beef base concentrate is added for flavor depth along with a few dashes of Worcestershire.
For the tomatoes I use 1 can of petite diced and 1 can of tomato sauce. Stir all of it together and simmer it until it thickens, then refrigerate overnight.
The star of the show is the 1/4 All Beef hotdogs.
You can find these at your local grocery store, Sams, or Costco.
I buy the Nathan's Colossal brand but any 1/4 all-beef will do the trick.
The dogs go on my Traeger pellet grill at 250°F for about 45 mintues.
That's plenty of time to warm the chili as well.
Now to assemble the dogs: Kick the heat up on the pellet grill to 400°F.
While it's ramping up place several brat style buns (or hotdog buns) on a cast iron pan.
Place a smoked dog in each bun and top with the chili.
Pile as much shredded cheddar cheese as you can stand over the top and place the pan on the pit.
After 5 minutes or so the cheese will melt over the top locking all the goodness in place and the cast iron also toast the outside of the buns making the chili dogs easy to pick up.
You can dress the smoked chili dogs however you like.
For me it's some finely chopped sweet onion and pickled jalapeño peppers.
These dogs will keep you in the game!!
Print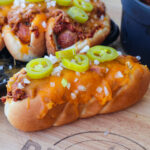 Game Day Chili Dogs
---
Description
who doesn't love smoked chili dogs?
---
1

lb 80/20 Certified Angus Beef ground chuck

1

small onion finely minced

4

cloves garlic minced

1 teaspoon

beef base concentrate

3

–

4

dashes Worcestershire sauce

1 Tablespoon

chili seasoning

1 Tablespoon

Malcom's Grande Gringo Seasoning

1 Tablespoon

Killer Hogs AP Seasoning

1/2 cup

water

14oz

can tomato sauce

14oz

can diced tomatoes

1 teaspoon

sugar

8

–

10 1/4

lb All Beef hotdogs

2 cups

finely shredded cheddar cheese
---
Instructions
Heat a large sauté pan over medium heat. Add 1 tablespoon olive oil and sauté onion and garlic for 2-3 minutes. Add ground beef and continue to cook until brown. Drain fat.
Add beef concentrate, Worcestershire, chili seasoning, grande gringo, and AP. Stir to combine and add water.
Stir in diced tomato and tomato sauce. Bring to a simmer and add 1 teaspoon of sugar. Continue to reduce until most of the liquid cooks down. Remove from heat, allow to cool, and refrigerate overnight.
Preheat Traeger grill or other smoker to 250° F using Hickory pellets for smoke flavor.
Place chili and hotdogs on the cooking grate and smoke for 45 minutes until chili is slightly simmering and hotdogs are 165°F internal. Remove from heat and bring the grill up to 400°F
To build the chili dogs: Place sausage rolls or hot dog buns on a flat iron skillet. Put a hot dog into each bun, top with chili, and pile up the shredded cheese on top.
Place the iron skillet back on the grill once it reaches 400°F and cook until cheese melts (about 5 minutes).
Serve the chili dogs with finely chopped onion and slices of jalapeño peppers or your favorite toppings.
Keywords: smoked chili dogs, chili dogs, how to make chili dogs, best chili dogs, Traeger, Traeger smoked hot dogs
Malcom Reed
Connect on
Facebook
Follow me on
Twitter
Subscribe to my
YouTube Channel
Follow me on
Instagram

Have a Question About This Recipe?
Connect with us in our HowToBBQRight Facebook group for recipe help, to share your pictures, giveaways, and more!