Fully-Loaded BBQ Potatoes with Pulled Pork
Smoked BBQ Potato with Pulled Pork and Cheese on Traeger Grill
This is one Kicked up Baked Potato right here! I start with jumbo size baker potatoes and coat the outside with bacon grease and Killer Hogs Hot Rub. They go on the pit at 350°F for about 1 1/2 hours or until I can stick a skewer in without resistance.
Once tender, I slice off the tops (reserve those for cook snacks) and scoop out the insides. Add a bunch of butter and sour cream, season with my Killer Hogs AP Seasoning (salt, black pepper, & garlic) then dump in the cheese. Finish it off with sliced green onion and crumbled bacon, stir together, and stuff back into the potato shells.
Now comes the good stuff – pile on a heaping handful of pulled pork. If you have left overs this is a great place to use it or you can do as I did and slow cook a pork butt overnight just for this recipe.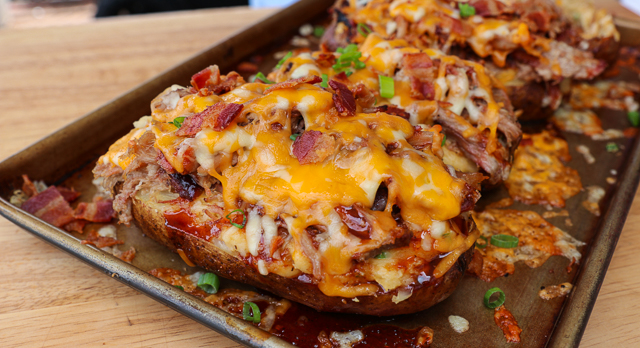 Drizzle the pulled pork with a good dose of Killer Hogs The BBQ Sauce and top with more cheese – That's right – more cheese!! Place the loaded-up taters back on the pit and cook until the cheese melts; it'll take about 10 minutes.
Garnish the tops with more crumbled bacon and sliced green onion then dive in to the best potato you've ever tried!!
Print
Fully-Loaded BBQ Potatoes with Pulled Pork
---
Description
Smoked BBQ Potato with Pulled Pork and Cheese on Traeger Grill
---
---
Instructions
Cook bacon until crispy and chop. Reserve bacon grease.
Prepare pellet grill for indirect cooking at 350°F.
Wash potatoes and pat dry with paper towel.
Drizzle potatoes with bacon grease and season with Killer Hogs Hot Rub.
Place potatoes on grill and cook until tender. (when a skewer slides in easily they're done)
Slice the tops off each potato and scoop out the insides into a large bowl. Add butter, sour cream, half the cheese, Killer Hogs AP Seasoning, bacon, and green onion (reserve a little bacon and green onion for garnish).
Stir to combine and spoon the mixture back into each hollowed out potato.
Top with a heaping pile of pulled pork and drizzle with Killer Hogs BBQ Sauce.
Add the remaining cheese to the top of each potato and return to the pit for 10 minutes or until the cheese melts.
Garnish with remaining green onion and crumbled bacon and serve.
Malcom Reed Connect on Facebook Follow me on Twitter Subscribe to my YouTube Channel Follow me on Instagram

Have a Question About This Recipe?
Connect with us in our HowToBBQRight Facebook group for recipe help, to share your pictures, giveaways, and more!