Wagyu Prime Rib
Wagyu Prime Rib smoked on the Outlaw Stick Burner over Hickory Wood
WHAT MALCOM USED IN THIS WAGYU PRIME RIB RECIPE:
Print
Wagyu Prime Rib
---
Description
This Wagyu Prime Rib was everything I hoped it would be. I have never in my life tasted a Prime Rib that would just melt in your mouth. It just might be one finest pieces of meat I've ever had the pleasure to eat… and I've been lucky enough to some good ones over the years!
---
12

# Wagyu Rib Loin

2 Tablespoon

Worcestershire Sauce

1/4 cup

Prime Beef Rub by Swine Life BBQ

1/4 cup

TX Brisket Rub by Killer Hogs

2

Fresh sprigs of Rosemary
---
Instructions
Prepare offset bbq smoker for indirect cooking at 275°F using Hickory wood for fuel.
Trim excess fat from loin and use butcher twine to secure the shape of the prime rib.
Drizzle the outside with Worcestershire sauce and season with a layer of Prime Beef rub followed by the TX rub. Place the sprigs of rosemary underneath the butcher twine on top of the roast.
Place the prime rib on the pit and smoke until internal temperature in the center of the roast reaches 120°F. Remove from the pit and rest for 15-20 minutes before slicing.
For even more flavor baste the Prime Rib as it smokes with the liquid reduction from Steakhouse Mushrooms
Steak House Mushrooms Ingredients:
2 pints white button mushrooms
1 stick butter
1/2 cup Worcestershire sauce
1 cup beef broth
1 cup red wine
1 shallot finely chopped
6 cloves garlic minced
1 Tablespoon Prime Beef Rub by Swine Life BBQ
1 Tablespoon fresh rosemary leaves
Place the ingredients in a large aluminum pan and smoke at 275°F for 2 hours or until mushrooms are soft and liquid reduces. Serve mushrooms along side your favorite grilled or smoked meats and use the liquid as a baste as the meat cooks.
This Wagyu Prime Rib is a once-in-a-lifetime recipe for me. It's the first time that I've ever splurged on a piece of meat this magnificent and hopefully it won't be the last! My buddy Kevin – The Butcher Shop Pensacola, FL – is known for sourcing and selling some of the best A9 Australian raised Wagyu beef to bbq pitmasters all over the US. I've been friends with Kevin for many years and he always takes good care of me when I need to source something special.
The price tag was high – like in the neighborhood fo $700 high – which is way out of my budget for a cut of meat, but you only live once!
To çook this fine specimen we fired up the Outlaw stick burner pit with Hickory wood. I did use a little Royal Oak charcoal to get a bed of coals going but once they burned down we started adding splits of hickory to produce even smoke and heat. After a quick trim to shape up the rib roast we tied it with strands of butcher twine to help hold the shape as it cooked. I drizzled the outside with a little Worcestershire sauce then seasoned it with a hearty dose of Swine Life's Prime Beef rub and my TX Brisket rub for texture. Then I tucked in a few sprigs of fresh rosemary and it went on the Outlaw.
We knew the only way we were going to mess this cook up was to overcook the Prime Rib so we monitored the internal temperature closely. I'm a rare man when it comes to Prime Rib – that means 120°F in the center is as far as I wanted it to go. Perfect Prime Rib should be reddish pink all the way across the roast with plenty of delicious meat juice left inside the meat not on the cutting board!
For added flavor I threw in a pan of steakhouse mushrooms – which are a simple recipe. As the juice develops flavors on the pit use it as a baste for whatever you're cooking. It's simple and absolutely delicious. I can get full just dipping bread in that mushroom juice!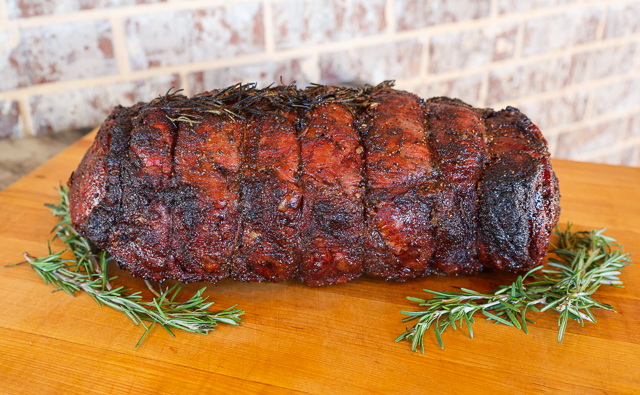 Once the Prime Rib hit 120°F we took it off the pit and gave it a short 15-20 minute rest. I have never in my life tasted a Prime Rib that would just melt in your mouth. It was succulent like the finest piece of meat I've ever had the pleasure to eat. I can't imagine anything topping this Prime Rib and if you're want to really say you've lived…you have to try one for yourself! I have to give Kevin a big shout at for putting me on this piece of meat!
Malcom Reed
Connect on
Facebook
Follow me on
TikTok
Subscribe to my
YouTube Channel
Follow me on
Instagram

Have a Question About This Recipe?
Connect with us in our HowToBBQRight Facebook group for recipe help, to share your pictures, giveaways, and more!