"Fall Off The Bone" Ribs
There is a point where ribs are JUST RIGHT tenderness… and everyone has a different opinion on where that point is! Some folks like their ribs to be more of a "competition" texture and to have more of a bite. But A LOT of folks want their ribs falling off the bone.
And this method is how I get my ribs fallin' off the bone but still keep them juicy and delicious.
WHAT MALCOM USED IN THIS RECIPE:
Print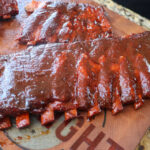 "Fall Off The Bone" Ribs Recipe
---
Description
How I Smoke Ribs that Fall Off The Bone. If you like your ribs to fall off that bone, this method gives you tender, juicy ribs every time!
---
---
Instructions
Prepare smoker for indirect cooking at 275F using hickory wood for smoke flavor.
Remove the membrane from each rack of ribs and trim away any excess fat. Season each slab with AP seasoning followed by a layer of The BBQ Rub – substitute your favorite seasonings if desired.
Place each rack on the pit and smoke until the rubs adhere to the meat and the color turns a dark mahogany about 2 to 2.5 hours.
Cut each stick of butter in half lengthwise and place on a sheet of aluminum foil big enough to wrap the ribs.Drizzle the butter with honey and Vinegar Sauce. Place each rack of ribs over the butter meat side down. Season the bone side with additional rub and wrap the foil tightly around the ribs.
Place the ribs back on the pit for an additional 2.5 hours or until the meat is "fall-off-the-bone" tender. The internal temperature should be around 212-215 degrees.
Carefully remove each slab of ribs from the foil wrap and place on a foil lined baking sheet. Apply a little more The BBQ Rub and place back on the pit for 4-5 minutes. Drizzle The BBQ Sauce over the top and cook an additional 5-10 minutes to set the sauce.
Remove the ribs from the smoker and serve – you won't need a knife for these ribs because the ribs will be Falling-Off-The-Bone!
Keywords: ribs, fall off the bone ribs, tender ribs, smoked ribs, rib recipe
Malcom Reed
Connect on Facebook
Follow me on TikTok
Subscribe to my YouTube Channel
Follow me on Instagram

Have a Question About This Recipe?
Connect with us in our HowToBBQRight Facebook group for recipe help, to share your pictures, giveaways, and more!