Texas Style Pulled Pork Recipe
I call this recipe "Texas Style Pulled Pork" because it reminds me of the way brisket and spare ribs are cooked in the Lone Star State. For Texas Style Pulled Pork, it's all about simple ingredients – Meat, Salt, Black Pepper and Post Oak Smoke. Pork cooked this way takes on a delicious flavor and I love it because you can taste the actual meat. In Texas Post Oak is used as the primary fuel source and it gives the meat a pleasant, smoky profile.  It can be strong like hickory but the flavor is true barbecue.
Stick burner pits rule in Texas, but you can cook Texas Style Pulled Pork on any bbq pit.  I'm using my Big Green Egg running B&B Lump charcoal.  I scattered 5-6 chunks of good seasoned post oak over the hot coals and let the pit come up to 275⁰. The pork butt gets seasoned with a 50:50 blend of Morton's Corse Kosher Salt and Tone's Restaurant Ground Black Pepper (both can be found at Sams club).  Then it goes on the Egg fat side down for 4-5 hours until a good bark forms.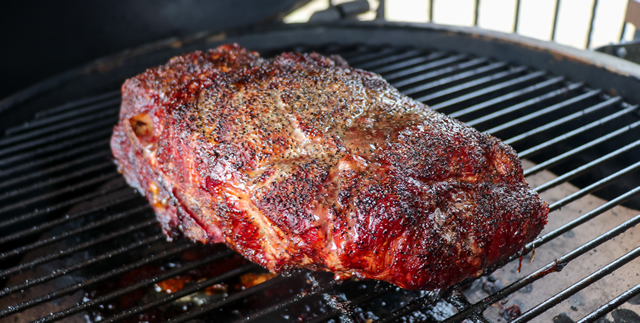 I don't bother with probing the butt at this point because it's all about the bark.  When it looks right it's time to wrap the butt to get it tender. Instead of using the Texas Crutch (aluminum foil), I go with peach butcher paper. Butcher paper is used in barbecue to preserve the bark. It turns out a little firmer in the paper where aluminum foil steams the bark causing it to be mushy. Once the butt is wrapped place it back on the pit and stick a meat probe into the center of it.  Set the alarm for 198 degrees and kick back and have a cold one. This is where a
Probe Thermometer
comes in really handy.
I used a Thermoworks DOT for this pork butt. You can check them out here>>
It'll take several more hours for the butt to reach target temp and when it does it needs a good rest. I have a dry cooler on hand and just sit the butt right down inside it. Close the lid and come back after a couple hours.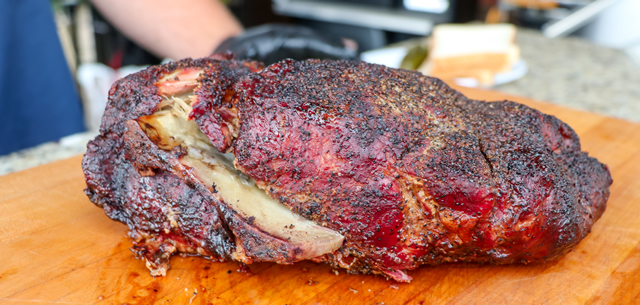 When you're ready to serve the Texas Style Pulled Pork, remove it from the cooler and unwrap the butcher paper. It'll still be hot so wear hand protection (
cotton Hand Saver gloves
under a pair of
nitrile gloves
), and shred the butt by hand.
The bark is absolute best part.  The Salt & Pepper create a savory, crusty bark and the post oak flavor is just right.
Texas Style Pulled Pork is great for sandwiches, tacos, nachos, or just eating plain with some sliced sweet onion and pickled jalapeños, but don't forget the white bread!
Also sauce is completely up to you; in Texas it's frowned upon, but I say enjoy however you want!
Print
Texas Style Pulled Pork Recipe
---
8

lb Pork Butt

¼ cup

Corse Ground Kosher Salt

¼ cup

Corse Ground Black Pepper
---
Instructions
Prepare Smoker for indirect cooking at 275⁰ using chunks of Post Oak added to the hot coals for smoke flavor.
Combine the Kosher Salt and Black Pepper in a small mason jar.
Season the outside of the Pork Butt with a good dose of the salt & pepper seasoning on all sides.
Place the Pork Butt on the smoker and cook for 4-5 hours or until internal temperature reaches 165-170 degrees.
Wrap the Pork Butt in peach butcher paper and return to the smoker.
Monitor the internal temperature with a probe thermometer inserted into the center of the pork butt. Final target temperature should be 198-200⁰.
Rest the Pork Butt in a dry cooler for at least 1 hour before serving. To Serve: remove the blade bone and shred the pork butt by hand.
Malcom Reed
Connect on
Facebook
Follow me on
Twitter
Subscribe to my
YouTube Channel
Find me on
Google+
Follow me on
Instagram

Texas Style Pulled Pork
Have a Question About This Recipe?
Connect with us in our HowToBBQRight Facebook group for recipe help, to share your pictures, giveaways, and more!