Brown Sugar Bourbon Chicken Skewers
This recipe is great for your summertime get togethers. You can do all the prep ahead of time so when you're ready to fire up the grill, the cooking will be fast. I use boneless skinless thighs for this cook. Trim any excess fat and slice the thighs into 2" strips. Place a couple strips on each skewer and get them in some marinade. I used a McCormick Grilling marinade for this recipe but you could use any marinade even Zesty Italian dressing out of the bottle is great. Cover the skewers in the marinade and let them hang out in the refrigerator for a couple hours before grilling.
When you're ready to fire up the grill, create a two zone fire by placing all of the hot coals to one side leaving a cool zone on the opposite side. Take the skewers out of the marinade and season the outside with a mixture of 1/4 cup brown sugar, 1/4 cup turbinado raw sugar, and 1 teaspoon ground cayenne. I place it all in a dredge shaker and give it a good mix.
Place each skewer over the hot side of the grill fist to sear the outside. It'll take about 3-4 minutes; just keep an eye on them and turn often. When you get the a good sear move everything to the cool side to slow it down. Keep cooking until the internal temperature reaches 165-170 in the thickest part.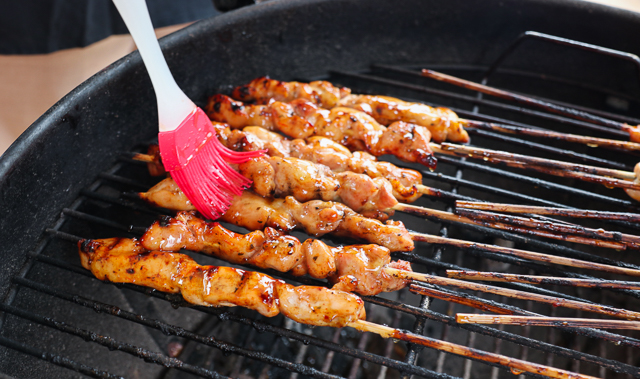 Brush the outside of each skewer with my favorite
Captain Rodney's Boucan Glaze
. This will make them sticky and sweet with just a touch of heat.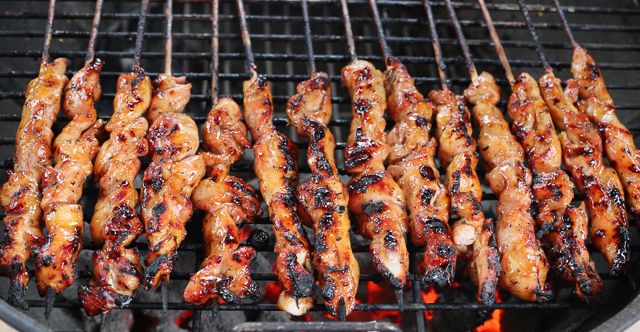 Move each skewer back over the hot coals just for a minute or two to caramelize the glaze and char the outside just a little more. The whole cook only takes about 10-12 minutes.
I like to serve them with my BBQ sauce for dipping; just make sure you make plenty because folks will love them!
Print
Brown Sugar Bourbon Chicken Skewers
---
Description
Grilled Chicken Skewers with a Brown Sugar Bourbon Marinade cooked on Weber Kettle Grill
---
2

lbs boneless skinless Chicken thighs

1

package McCormick Brown Sugar Bourbon grilling marinade

10

–

12

wooden skewers

1/4 cup

brown sugar

1/4 cup

turbinado sugar in the raw

1 teaspoon

ground cayenne pepper

1/2 cup

Captain Rodney's Boucan Glaze
---
Instructions
Trim excess fat from chicken thighs and cut each thigh into 2" strips
Place two strips of thigh meat on each skewer and arrange on a platter or shallow baking dish. Pour marinade over the top and rotate each skewer so all of the chicken is covered in the marinade.
Refrigerate for 1-2 hours.
Prepare charcoal grill for 2 zone cooking (hot side and cool side).
Combine the brown sugar, turbinado, and cayenne is dredge shaker and sprinkle over the top of the skewers.
Place the skewers on the hot side of the grill to sear. Cook for 3 minutes each side or until the outside starts to char.
Move the skewers to the cool side and continue to cook until the internal temperature reaches 165-170°F.

 

Brush each skewer with Captain Rodney's Boucan glaze and move them over to the hot side of the grill for a final sear to caramelize the glaze.
Serve with your favorite BBQ sauce for dipping.
Have a Question About This Recipe?
Connect with us in our HowToBBQRight Facebook group for recipe help, to share your pictures, giveaways, and more!