The Turkey Breast I use is a Honey Suckle brand boneless, skin-on breast weighing about 3lbs. This one came "jet-netted" (wrapped in a butcher twine netting all around), and this helps the turkey breast hold a uniform shape while cooking. Just like a whole turkey I brine the breast, but it doesn't take near as long. Here's the recipe for the brine I used: 64oz Water 1 cup Dark Brown Sugar ½ Cup Tony's Cajun Seasoning 2 Bay Leaves 1 Tablespoon of Black Pepper (whole peppercorns preferably) Heat the water in a stockpot and add the remaining ingredients. Stir until dissolved and then allow it to cool. If you're in a hurry, add a cup of ice cubes to the mixture but be sure to cut the water back a little. The brine and breast go into a ziplock bag and then into the fridge. Let it soak for 4 hours. Fire up the smoker and bring it up to 275 degrees. While the heat is rising remove the breast from the brine. In a small aluminum pan melt one stick of butter; this will also be used as a butter bath for the first part of the cooking process.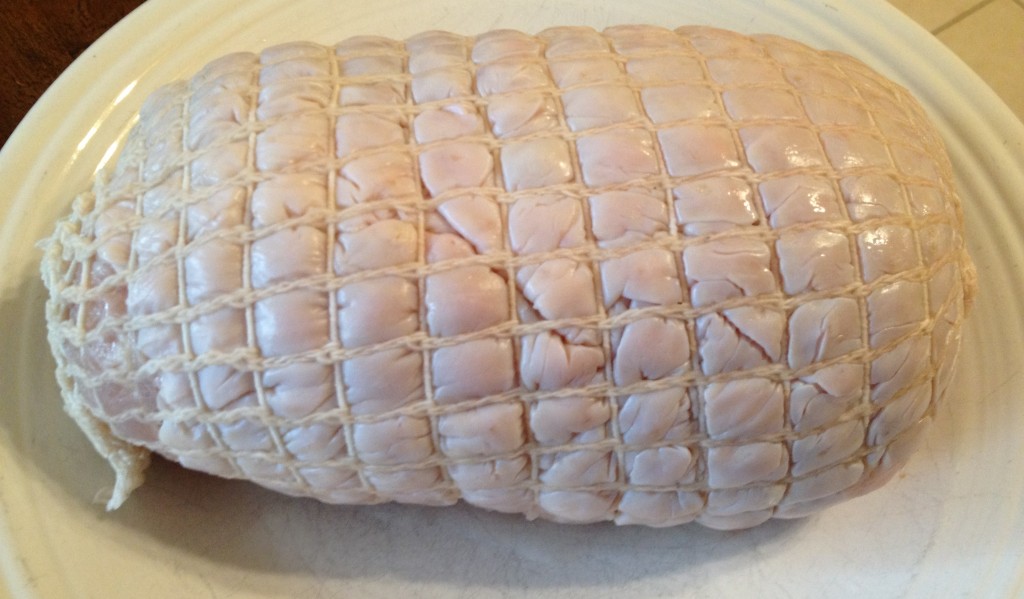 Brush the outside of the breast with melted butter and apply the seasoning. First Layer is a mixture of: Kosher Salt (1 cup) Granulated Garlic (1/2 cup) Onion Powder (1/4 cup) Black Pepper (1/8 cup) Poultry Seasoning (1/8 cup) There will be plenty left over for future use. I keep a container of this mixed up and for any type of poultry. Place the turkey breast in the butter bath pan. Just before it goes on the smoker add a little of The BBQ Rub for another layer of flavor.
Throw a couple chunks of wood on the coals (I use cherry) and place the pan on the smoker. After one hour of cooking take the breast out of the pan and place it directly on the cooking grate. This will brown the skin. Also, baste it with a little of the melted butter before closing the lid. It goes for another ½ hour and it's time to check the internal temp. Turkey breast needs to go to 165 degrees internal to be safe. Really keep an eye on the internal temp because if it goes much further, it will dry out. My total cook time was 2 hours 10 minutes for this breast.
Always let the meat rest once it comes off the cooker. I went ahead and snipped the netting off with a pair of kitchen shears, and after 15 minutes, it's ready to carve. One breast yields enough sliced turkey for 4-5 servings. The meat turns out moist, packed with flavor, and perfectly tender. It will go fast, so plan on doing a couple of these if you have some eaters coming for dinner.
Hope everyone has a Happy Thanksgiving!
Malcom Reed
Connect on
Facebook
Follow me on
Twitter
Subscribe to my
YouTube Channel
Find me on
Google+
Follow me on
Instagram

Have a Question About This Recipe?
Connect with us in our HowToBBQRight Facebook group for recipe help, to share your pictures, giveaways, and more!