World Champion Rib Recipe with Tennessee Mojo
I've been begging Jay Durbin (Tennessee Mojo) for 2 years to come show me how he won the 2019 Memphis in May World Championship Rib category and he finally caved in!!!
This is Jay's winning rib technique and what made him the defending Rib Champion going into the 2021 MIM event. I turned the pit over to Jay in this video as he walks us through the whole rib process.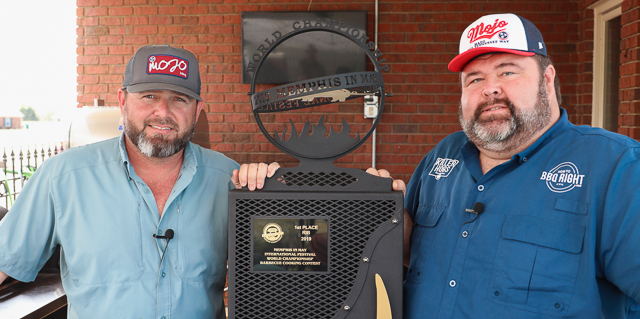 Jay starts with fresh baby back ribs trimmed of any excess fat and chine bones removed. This process can be a little tricky, so I usually leave the saw work up to a butcher. Most butchers will gladly trim those for you just ask them to square the rack up and knock the chine bone off with a saw. We do this in contest because it shortens the length of the rib making it easier to get them into the blind box. It also cleans up the ends of the bones, so the judges don't get bits of cartilage or bone fragment when they take a bite.
The ribs are then seasoned with generous layers of Jay's Tennessee Mojo Rub and my Killer Hogs Hot Rub and smoked with Hickory wood for a couple hours. When the color is just right, Jay wraps the ribs to get them tender. He loads that wrap up with all sorts of delicious ingredients including heaping spoons of Country Crock (Jay says if its good on crackers then it's good on Ribs!).
The ribs are placed back on the pit and cooked for another 1 1/2 hours. At this point they should be perfectly tender. Each rib is placed in a cheap cooler to hold for at least an hour before the glazing process.
Just before rib judging each rack is taken out of the foil and brushed with bbq sauce. Jay's mixture is 50/50 blend of Killer Hogs The BBQ Sauce and Killer Hogs Vinegar Sauce. He brushes a thin coat of warm sauce on both sides, places the ribs back on the pit for 10-15 minutes, and finally uses a little more rub ran through a thumb grinder to give them a pop of flavor. Each rack is sliced into 2 bone sections for the blind box and the remainder are served whole for the judges to pull apart by hand.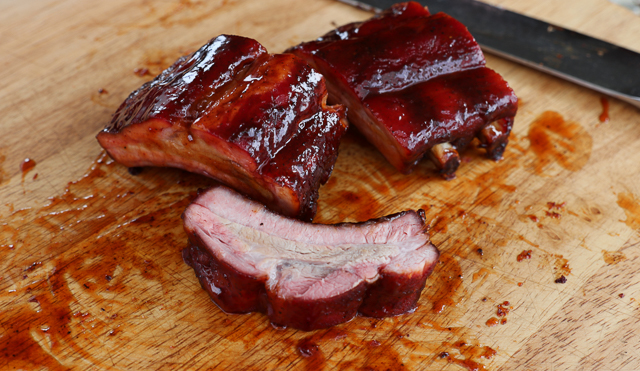 The texture is what sold me on Jay's ribs. The meat was perfectly cooked. Each bite was packed with moisture and the outer bark layer was delicious. You could taste the hickory smoke but it wasn't overpowering at all.
I can see why Jay has been so successful at the World Championship. His rib technique is Killer!!! Give it a try if you want to experience a World Class rib recipe – Mojo Style!
Malcom Reed Connect on Facebook Follow me on Twitter Subscribe to my YouTube Channel Follow me on Instagram

Have a Question About This Recipe?
Connect with us in our HowToBBQRight Facebook group for recipe help, to share your pictures, giveaways, and more!