BBQ Pulled Beef Sandwich
This is how to smoke a chuck roast and turn it into some real-deal, "make em' say uh" level Pulled Beef. That Au Jus is the ticket! And then I made a big ol' BBQ Beef Sandwich, topped with a jalapeño slaw and a sauce made from equal parts beef jus and BBQ sauce.
WHAT MALCOM USED IN THIS RECIPE:
Print
BBQ Pulled Beef Sandwich
---
Description
Smoked Chuck Roast Recipe for fall-apart tender BBQ Beef – used to make the best Barbecue Pulled Beef Sandwich
---
---
Instructions
Season Chuck roast with Prime Beef rub followed by a layer of Hot Rub.
Prepare smoker for indirect cooking at 300 degrees using hickory wood for smoke.
Place roast on pit and smoke for 2 – 2 1/2 hours or until the outer surface is a dark mahogany color.
Combine the water and beef base in a small pot over medium heat until it reaches a slight simmer.
Place the roast into a 1/2 size aluminum steam pan and pour the beef liquid around the roast reserving 1/4 cup liquid.
Place pats of butter on top the roast and cover with aluminum foil.
Continue to cook the roast until it hits 210 degrees internal then remove from pit and rest for at least 30 minutes.
Carefully remove the riser from the pan and pull by hand. Mix a little if the pan juice with the meat and serve.
Notes
Jalapeño Slaw Recipe
1 bag cole slaw
1 cup quick pickled jalapeño onions* recipe below
1/2 raw jalapeño finely chopped
1/2 cup mayonnaise
2 Tablespoons pickling liquid* from below
2 Tablespoons sugar
1 Tablespoon corse ground black pepper
Combine the Mayo, pickling liquid, sugar, and black pepper in a small bowl. Add the slaw, finely chopped fresh jalapeño, and quick pickled jalapeño onions to a large bowl. Pour in the Mayo mixture and stir to combine. Rest in the refrigerator for one hour before serving.
Quick Pickled Jalapeño Onions
1 sweet onion chopped
1 fresh jalapeño sliced then rough chopped
1 cup apple cider vinegar
1 cup water
1 Tablespoon sugar
1 Tablespoon kosher salt
Combine vinegar, water, salt, and sugar in a boiler pot. Heat mixture over medium high heat until it reaches a boil. Place onion and jalapeño in a bowl, pour hot liquid over the top, and cover with lid. Place in refrigerator for 3-4 hours.
Keywords: chuck roast, smoked chuck roast, pulled beef sandwich, smoked pulled beef
BBQ Pulled Beef Sandwich
BBQ Chuck Roast – This recipe is great for making pulled BBQ beef. Chuck Roast is inexpensive and cooks just like a brisket on the grill.
I start out seasoning the brisket with a good dose of Swine Life's Prime Beef Rub followed by a light coat of my Killer Hogs Hot Rub. Let the seasonings work on the roast for 30 minutes or so while the pit comes up to temperature. For this cook I fired up my Outlaw Patio stick burner running hickory splits. Once the pit stabilized at 300 degrees the roast goes on the cooking grate.
After 2 hours the color is just right for wrapping. At this point the roast goes into an aluminum pan along with some beef au jus. Pour the beef jus mixture into the pan but not directly over the top of the roast. It should come about half way up the sides of the chuck roast. Add a few pats of butter to the top of the roast and insert a probe thermometer to monitor the internal temperature. Cover the pan with foil and continue cooking until it practically falls apart! Total cook time was about 4 1/2 hours on this roast.
When the internal temp hits 200°F I start checking for doneness. Stick the probe into different areas of the roast and see how it feels. If it's soft like sticking a warm knife into room temp butter then it's done. If you feel any resistance it's not ready just yet. It's typically going to be somewhere between 208 and 215 degrees for an easy pull. You can also use a couple forks to see if it'll shred.
When the roast is ready take it off the pit and let it hang out for 30 minutes. Put on a pair of cotton gloves with nitrile gloves over the top and start pulling the roast apart by hand. Separate any fat that didn't render and be sure to save the pan drippings for a little extra added moisture.
I serve it up sandwich style with a creamy jalapeño slaw on a toasted onion roll. Combine equal parts of the beef jus with your favorite bbq sauce and you have an excellent serving sauce for beef.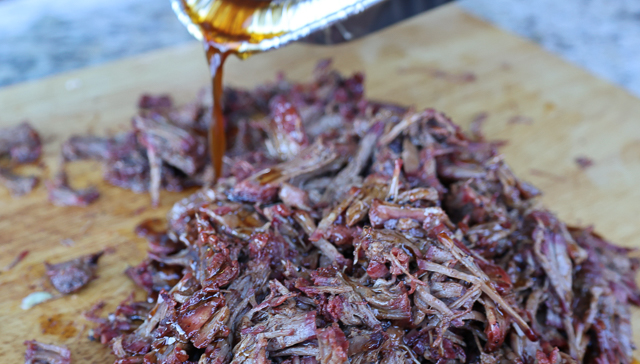 Malcom Reed
Connect on Facebook
Follow me on Twitter
Subscribe to my YouTube Channel
Follow me on Instagram

Have a Question About This Recipe?
Connect with us in our HowToBBQRight Facebook group for recipe help, to share your pictures, giveaways, and more!