HowToBBQRight Podcast Season 3: Episode 13
Chuck Roast Burnt Ends, Grilled Pollo Tapatio Recipe and Cooking Pulled Pork for 200 People
Malcom gives his opinion of "Poor Man Burnt Ends" using Chuck Roast, share his favorite Mexican recipe and tells how to cook a BBQ Dinner for 200 people. This week on the HowToBBQRight Podcast, we talk about how many Margaritas Malcom has before doing
Greg Rempe's BBQ Central Show
this week (0:46) and the list of nominees for the BBQ Hall of Fame (2:10). Then we talk about Malcom's
Chuck Roast Burnt End
method for making "Poor Man Burnt Ends" (7:55), why it's not as good as Brisket Burnt Ends (9:55), why he didn't use a lot of sweetness in the braise (14:30) and what he would do differently (15:23). Then we talk about how Malcom says "Pollo" (17:58), how he cooks his version of a
Grilled Pollo Tapatio
(18:35) and how he makes Salsa Rice and Refried Beans (21:11). Then we talk about cooking bbq for 200 people (29:17), how to figure the right amount of meat to cook (33:14) and Chell's catering Cole Slaw recipe (40:34).
About Malcom and Rachelle Reed
We started HowToBBQRight in 2007. We didn't know what we were doing… but Malcom loved to cook BBQ and I knew just enough about designing a website to build one. Now we sell our own line of
Killer Hogs BBQ Products
and create weekly recipes for our
HowToBBQRight YouTube Channel
and website – and now we're doing a Podcast! To us, it's all about cooking delicious food and taking pride in everything we cook.
Connect with Malcom
HowToBBQRight Facebook Page
Connect with Malcom on Twitter
Connect with Malcom on Instagram
Connect with Malcom on YouTube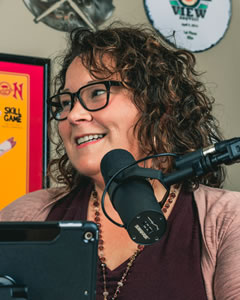 Connect with Rachelle
Connect with Rachelle on Instagram
Connect with Rachelle on Twitter
For Media Requests Contact Rachelle at
[email protected]